Thursday, August 31, 2006
Encouragement in Scripture for The Childbearing Year
I wanted to share some passages from Scripture which are fitting for the childbearing time. My midwife back in Ohio gave this compilation as a handout in her birth folder. I found them to be encouraging, consoling and especially beautiful during the pregnancy and post-partum time.
This icon is The Mother of God of Tenderness, written by Dan Nichols of Eighth Day icons. We also have a link to his site under our "fine art recommendations" which is on the "religious supplies" page in the sidebar with the other links. I find this icon to be especially comforting during any anxious or hard times.
Psalm 127:3-5~ Behold, children are a gift of the Lord; The fruit of the womb is a reward. Like arrows in the hand of a warrior, so are the children of one's youth. How blessed is the man whose quiver is full of them; They shall not be ashamed when they speak with their enemies at the gate.
Psalm 128:1, 3-4~ How blessed is everyone who fears the Lord. Your wife shall be like a fruitful vine within your house, your children l;ike olive plants around your table. Behold, for thus shall the man be blessed who fears the Lord.
Genesis 18:14~ Is anything too difficult for the Lord? (concerning Sarah)
Mark 10:28~ With men it is impossible, but not with God; for all things are possible with God!
Psalm 34:4~ I sought the Lord, and He answered me, and delivered me from all of my fears.
Psalm 46:1-2~ God is our refuge and strength, a very present help in trouble. Therefore we will not fear.
Psalm 56:3-4~ When I am afraid, I will put my trust in Thee. In God, whose word I praise, in God I have put my trust; I shall not be afraid.
Some mothers who's births I have been to have found it particularly helpful, during labor, to have the the Litany of Mary or of Jesus prayed with or read to them. My husband and I prayed the rosary together during the earlier stages of labor when I was in a more contemplative state, before I had to concentrate too much on each contraction. During those harder stages some women prefer to labor in silence, without noise or anyone talking to them. However, some women really love to hear the sound of the beautiful litanies of our Church. ~Just some thoughts for those of you who will be having your babies soon!
~Sia in Vancouver, WA
Labels: Quotable
one of us :: 7:38 PM :: 0 Comments

---------------oOo---------------
Wednesday, August 30, 2006
Question of the Week
We are filling in for Hope again today! I don't think we are anywhere near as good at choosing quesations as she is, nor do we have such a knack for triggering good, interesting debates. However, we try... This question is one which perhaps might help inspire those of us who haven't yet gotten into our own rythms regarding rigorous, disciplined exercise. The exercise of our everyday lives as mothers, a constantly on-the-go lifestyle with good muscle-work in kneading bread, holding babies, etc. is of course probably quite suffiecient! However, some of us like or need to have more than that. I loved the time I used to spend swimming laps and hope to work it into my life in future years, somehow... So enough babble... here are the questions!

How do you get your exercise worked into your day? What kind of exercise do you do? Do you do it with or without the kids? What exercise do you do while pregnant?
Labels: Questions
one of us :: 10:21 AM :: 9 Comments

---------------oOo---------------
Tuesday, August 29, 2006
Feast Days Everywhere!
I am both embarrassed and honored that our Faith has so many feast days that we aren't keeping up on them all! Yesterday was a big gun, (and Ellie's Confirmation patron to boot) St. Augustine. Today we celebrate the beheading of St. John the Baptist. Isn't it wonderful how we can find joy in the ending of one's earthly life?! The day that marks his entry into the Eternal Kingdom is worth a shout of joy no doubt. Forgive if we skip here and there. All saints, popular or unknown are experiencing the joy that we long for day by day. They are such great models for us and that's why we try to highlight a bit about them when we can. Our Faith is rich and profound in the joy it offers her children! It is this joy... these celebrations that we want to impress so deeply on our own children!

Labels: feastdays



one of us :: 3:33 PM :: 0 Comments

---------------oOo---------------
The Family Walk
There are a lot of things my family could do to improve our time together. But one thing makes me proud that we have kept pretty consistent for some time now is our family walk. When I have my days organized and we eat supper at a reasonable hour (I try for between 5-6 around here), there is usually ample time afterwards to do the dishes, go for a walk, bathe the kids, pray the Rosary, read a couple stories and get them to bed by 8 pm. I admit this routine isn't always perfect, sometimes we skip parts of the formula but all in all, this is what makes for the smoothest night-time routine around here.

Going for an evening walk has been so good for all of us, and great for our marriage especially. My husband and I are taken out of our respective work zones (his job place, my house duties) and we just go around the neighborhood or go to a nearby playground and let the kids play a bit while we sit on the swings talking. It's not that we always get into deep or meaningful conversations-- half the time we're commenting about our day or the gardens we passed etc. But the great thing is that we are just together, breathing fresh air and being undistracted by the TV or phone or whathaveyou around the house. It's a wonderful feeling. Lately we pull the wagon behind us or the kids walk too... before my belly got too big we often did bike rides instead, each of us had a child on a rack attached to our bikes. It doesn't matter the method, the point is getting away from the mundane as a family and spending a bit of time together.

I'd add it to my recipe of making One Happy Home.




-Ellie: Oak Harbor, WA

Labels: Reflections



one of us :: 9:45 AM :: 7 Comments

---------------oOo---------------
Monday, August 28, 2006
Making Do on Mondays: Photography 101
Not everyone has a "photographer's eye" so to speak. Like all arts it takes part talent and part technique. The photos you see from professional photographers are, remember, the best of their best. Oftentimes they go through rolls of film to get ONE shot worth showcasing. However, all parents have a vested interest in getting decent pictures of their kids. And I've been to enough photography studios to know that oftentimes the best photos of your kids aren't the ones you pay out the nose for... they are the ones you take yourself.

So although I'm not a professional photographer, I have taken a class or two... and I did spend most my high school career as a videography geek, plus I worked on the side doing shoots for various events. I want to share a few really easy tips that can make it easy for you to get wonderful photos that are more worthy of a frame than the professional, expensive stuff we see on most household walls. Why spend that kind of money when you are the one seeing your kids at their very cutest moments?!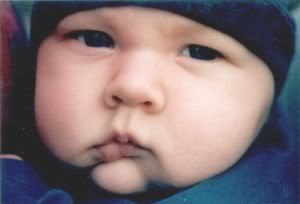 Don't be afraid to go close. Using up your full frame is a key in professional looking results. You can see your subject's finer details well while eliminating distracting backgrounds.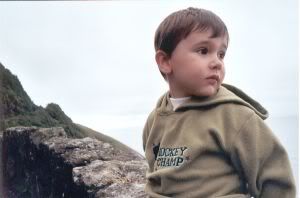 Place your subject off-center sometimes. This is one of the biggest mistakes people make in snapping photos. They put the person/people in the middle of their viewfinder and just click. Instead, make sure you don't have a lot of space above the head. Also, imagine your viewfinder is segmented into three equal parts (so two dividing lines). Place the subject one of those lines... it's much more asthetically pleasing. You see this technique done all the time on news channels and when watching interviews.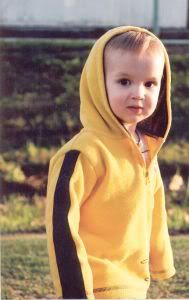 Plain colors are best... both in clothing choices and backgrounds. Oftentimes loud patterns can distract from your subject. And don't worry too much about that "perfect outfit"... the quality of the photo isn't in what your child is wearing, it's in the affect they show.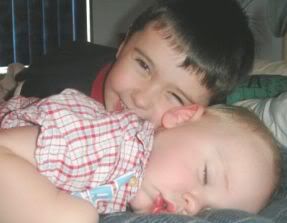 Try some different angles other than just standing there and taking the shot that you see from your height. Get low to the ground and catch your crawler coming toward you. Or stand on a chair and zoom in to get a different look. Shoot through the slats of a fence. Get behind the baby and call their name to look back at you. Shoot profiles. Have fun experimenting with your angles. Perspective is critical in getting a good shot.
You can make your own "studio" just by throwing down a nice blanket or some fabric. Even placing your kids in front of an old rickety fence, or solid hedge makes for a nice background. I just threw down an old feather boa I found before taking this shot.
The best time to take pictures is at sunset. The coloring provided by a fading sun is the most flattering you'll get all day. The worst time to take pictures is under a high, bright sun that casts all kinds of shadows and highlights skin flaws.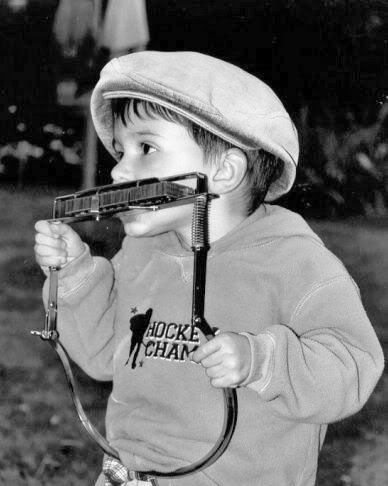 Finally, don't try to stage your shot too much. Kids look their best when you catch them in a candid moment... picking a flower, trying on Papa's boots, or yes, the classic spaghetti-on-the-face. Getting a nice smile often isn't worth the trouble you put into making them do it.

Have fun! Remember that any film you develop can be enlarged for framing... or you can take it to the Kodak Picture Makers at most drug stores and get it cropped or turned into Black and White, enlarged, wallet sized, etc. So try out taking your own hallway show-off photos today!
-Ellie: Oak Harbor, WA
Labels: useful ideas
one of us :: 9:59 AM :: 6 Comments

---------------oOo---------------
Sunday, August 27, 2006
I made a mistake

We have the privilige of living in an area where there is a local drive-in movie theatre. We love to go... we pull the back seat out of the van and bring some blankets, put the kids in their jammies and watch a movie while they play around and eventually fall asleep in the back. Oftentimes, there's a kiddy movie first then a more adult movie for the second feature (when little ones will have dozed off). Great, family fun all-in-all.

Last night we made the mistake of going to see a movie without doing our research. I should have known better though, considering who the lead actor was. We figured the kids would fall asleep soon anyway, so a couple swear words until then would fly right by them. Bad call. It took a good hour for them to doze off.

As we sat and watched this particular movie, my husband and I were both ashamed as some of the foul language came up and suggestive motions. Kids don't necessarily understand every innuendo, but they are little sponges in a big way. The worst part is that I always pray for their innocence... though I suspect some exposure to the dirtier things in life are inevitable as they grow up.

The inexcusable thing was willfully putting our children in a situation that compromised their spiritual health! (The movie turned out awful anyway and even us adults felt like it was a worthless two hours... would've left had we not been tempted by the promising double feature right afterwards) The more I thought about this late last night and early today, the worse I feel. Doesn't the Bible warn us about causing little ones to sin?! Not just that, but the biggest problem is that I feel like we failed God in one way. Our children are on LOAN to us. They are not ours. They have been entrusted to our care for the primary purpose of raising them to know, love, and serve God in this life and the next. Period. It's like leaving your kids to a babysitter and upon return finding them filthy, and unfed and spouting out colorful words you hoped they'd never learn. Wouldn't you be angry and feel like your trust was betrayed?! And so I feel this way with my Savior. I'm putting this out in the public in hopes to remind all of us that we have been entrusted with a great responsibility with our children. I thank God for the confessional... and also that I don't have to face Padre Pio in there! (j/k)



-Ellie

Labels: Reflections



one of us :: 2:24 PM :: 0 Comments

---------------oOo---------------
Our model and patroness

Today is the feast day of St. Monica. A permanent link is located in this blog's sidebar. Suffice it to say that this woman is an excellent model for us who begin to despair that our prayers aren't heard. She put up with a lot from her husband before his deathbed conversion, and her live-in mother-in-law before her conversion. And then there's her son of course... St. Augustine, one of the greatest writers the Church has to boast.

Labels: feastdays



one of us :: 2:19 PM :: 0 Comments

---------------oOo---------------
Friday, August 25, 2006
Up to 10% will be victims before graduation...
I wanted to give this as much attention as possible.
Labels: in the news
one of us :: 10:14 AM :: 7 Comments

---------------oOo---------------
Friday Coffeehouse: Facts About Coffee
OK, so I admit that this is kind of a cop-out coffee post, but I am quite on-the-go today, needing to get going immediately on getting my son and I breakfast, spend some quality time over a cup of tea with my good friend who is staying here right now, then truck on down to Portland for the day where we have some good things planned. I wanted to at least provide you with some type of interesting reading material this morning for your own tea or coffee-times, and came across the below interesting "facts" about coffee. Some of them you will already know, but I particularly was intrigued by the third point!
At one time owning coffee plants or seeds could be dangeorus. Growers in Arabia, then the Turks and finally the Europeans in the 1600 and 1700's guarded seeds and plants to prevent others getting hold of their valuable plant. People were killed because they had possession of coffee plants.

Drinking coffee for breakfast dates back to the late 1600's. Here in the U.S. 50% of all coffee is still consumed at breakfast. More than 50 countries grow more than 8 billion pounds of coffee each year. Today coffee ranks second only to oil as the largest "natural" commodity in international commerce. The coffee bean is the world's most valuable agricultural commodity.

After the war, in 1946 in Italy, Achille Gaggia perfected his expresso machine. Cappuccino is named for the resemblance of its color to the robes of the Capuchin monks' order.

In 1971 Mr. Starbucks opened his first store in Seattle's, which can be considered the beginning of the current fresh-roasted whole bean coffee craze.

Today, coffee is appreciated and enjoyed throughout the world, with each country having its own version of the original coffee houses, and coffee drinking is still an activity which tends to draw people together where they can chat and relax in a convivial atmosphere.
~Sia, in Vancouver, WA
one of us :: 8:49 AM :: 0 Comments

---------------oOo---------------
Thursday, August 24, 2006
Letterboxing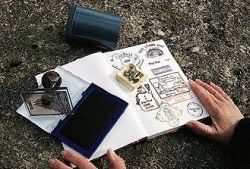 Maybe I just fell off the turnip truck but I had never heard of letterboxing until I picked up my latest issue of Family Fun magazine. What a fun idea for families! Essentially, it's a treasure hunt that originated in England where it's still popular. There are clues to various letterbox stashes online (I found plenty in my area). You print out the clues and go out to find the cache...

All you need is your own stamp, an inkpad, and a notebook. The stash will have its own stamp and log book for guests to "stamp in", while you can use the stamp you found to mark your own journal... kind of like a passport's bragging country stamps I suppose.

Oftentimes, the "treasures" will be in picturesque locations or on hiking trails... but there are even some hidden in urban areas as well.

I can't wait to let my kids go pick out their own personal stamp and start hunting with them! Cheap thrills are what we are all about... especially in the outdoors.

Locations of letterboxes and more information can be found at www.letterboxing.org



-Ellie: Oak Harbor, WA



one of us :: 9:29 AM :: 2 Comments

---------------oOo---------------
Wednesday, August 23, 2006
Question of the Week
What is the best gift you've ever received and why?
Labels: Questions
one of us :: 9:49 AM :: 5 Comments

---------------oOo---------------
St. Rose of Lima
Today's saint,
Rose of Lima Peru
, was well known for her self-mortification. It is said that she received so many compliments on her beauty that she used to rub pepper and lye on her skin in order to disfigure her face and make it blotchy.
While self-mortification seems to have lost its place in today's society... i.e., "it is more for admiration than imitation", I tend to think it should still be practiced in smaller, less drastic ways than some of the great saints.
I won't get legalistic on what we should and shouldn't do... just be conscious of the choices you make throughout the day and remember that graces abound in trial and sacrifice. Self-denial does wonders to foster humility and true contrition for sins. St. Rose reminds us:
"Apart from the cross there is no other ladder by which we may get to heaven."
Labels: feastdays
one of us :: 8:56 AM :: 0 Comments

---------------oOo---------------
Tuesday, August 22, 2006
A warning from Mr. Pio
Hi y'all I'm online for a sec and I thought I'd share a story my mom told me. She heard it from a talk by Fr. Corapi- a great priest who before his conversion was living the LA drugs sex and rock and roll life, now tours the country sharing about his life and giving talks at major conferences.
So the story goes like this...

Saint Padre Pio was hearing confession and a woman walked in to his confessional. He right away started yelling at her, saying "You are a criminal! Get out of here you criminal! Leave right now, you are a criminal!" The woman left in tears and understandably was very upset. After pulling herself together she mustered up the courage to go face Padre Pio saying "You can't treat me like that! I am not a criminal, what are you talking about?" And Padre Pio answered "Yes you are... three of your children are burning in hell as we speak because you were too permissive."

Something to think about... the gravity our position as mothers and how the devil is after our children. We must always be on guard!



Hope writes from Southern Cal

Labels: Quotable



one of us :: 8:20 PM :: 22 Comments

---------------oOo---------------

Another Lesson from Children

How true it is that our children teach us nearly as much as we teach them! I observed something about my son this weekend that really put me to shame. He talks about the Truths of our Faith in a way that recognizes what they really are: realities. We had some non-Catholic visitors this weekend, and while I don't hide my faith at all... I notice that we "tone things down" quite a bit. We usually skip our nightly Rosary; we hurry through grace before meals; and we try to make Sunday Mass a casual, non-weekend-interrupting outing.

I don't think we should ever push our Faith in people's faces or be loud and aggressive about it, but we should NEVER back away from the truth in how it affects our lives.

Xavier asked me if we were going to pray the rosary one night in front of our visitors. I felt myself blush and said "I don't think tonight honey." And at dinner time, we barbecued. He mentioned that Papa's bone "looked like Jesus" (it was a T-Bone steak). I agreed with him verbally but felt a bit self conscious.

For kids, there is no artificial separation of religion with "real life." It is as it shoud be... all the same thing. They have no concept of hiding what their faith is or being self conscious about making the sign of the Cross or praying out loud or just discussing the world they experience in a way that reflects their understanding of God.

I wish I was childlike in that way. I want to be, and pray that I feel no shame or self-consciousness when the SUPERNATURAL WORLD (that is, the Eternal) butts heads with this TRANSITORY WORLD. Which one, after all, is more REAL... more LASTING... and more MEANINGFUL?




-Ellie: Oak Harbor, WA

Labels: Reflections



one of us :: 9:30 AM :: 1 Comments

---------------oOo---------------
The Queenship of Mary
Ever since the earliest times, Christian writers have referred to the reign of Mary as she is Queen of Heaven. We celebrate today that feast and should be conscious of her powerful intercession as Christ's loving mother. Like no other person ever created, Our Blessed Mother is one that Jesus certainly listens to. All generations have called her blessed...
Labels: feastdays
one of us :: 9:22 AM :: 0 Comments

---------------oOo---------------
Monday, August 21, 2006
St. Pius X

"Holy Communion is the shortest and safest way to Heaven."
Pope St. Pius X
was best known for reducing the age for reception of Holy Communion from 12-14 to age 7. He fought against Modernism and lived as humble of a life as possible considering his office.
Glorious Pope of the Eucharist, Saint Pius X, you sought "to resore all things in Christ." Obtain for me a true love of Jesus so that I may live only for Him. Help me to acquire a lively fervor and a sincere will to strive for sanctity of life, and that I may avail myself of the riches of the Holy Eucharist in sacrifice and sacrament. By your love for Mary, mother and queen of all, nflame my heart with tender devotion to her. Blessed model of the priesthood, obtain for us holy, dedicated priests, and increase vocations to the religious life. Dispel confusion and hatred and anxiety, and incline our hearts to peace and concord. so that all nations will place themselves under the sweet reign of Christ. Amen.
Labels: feastdays
one of us :: 10:08 AM :: 0 Comments

---------------oOo---------------
Making Do On Mondays

Ellie is expecting very soon... you all know what kind of toll that takes on your energy AND brain! Hence I am pitching in some Monday tips for now. I have long been dreading the day when Aidan would be able to open cabinet doors and discover toxic cleaning products. This day has come and I find myself wanting to know more about NATURAL cleaning solutions that would be safe if ever he happened to swallow any. In using natural, non-toxic cleaners there is also the benefit of putting in our little efforts of protecting the environment.
"...Cornstarch can be used to clean windows, polish furniture, shampoo carpets and rugs. White Vinegar cuts grease, removes mildew, odors, some stains and wax build-up. Baking Soda cleans, deodorizes, softens water, scours..." Lemon Juice is also a wonderful cleaner and has a great fresh scent! I just did some research online for some good household cleaning recipes and came across the latter tips as well as the below recipes, which I am excited about trying. Perhaps some of you could find them useful, too. The best site I discovered while searching is called Eartheasy.


All-Purpose Cleaner:

*makes 32 oz. Make in a spray bottle

.


-1 cup Vinegar or Lemon Juice (or use more if you want it to be stronger)

*Use apple cider vinegar if you are allergic to White Vinegar

* Lemon Juice must be kept refrigerated

-Fill the rest up with water
-add 10 to 20 drops of your favorite essential oil (optional)
-add 1 TBS of Liquid Castile Soap(optional)
-Add 5 to 10 drops of Grapefruit Seed Extract (also optional)
Directions: Spray and Wipe. Uses:Use as a Daily Shower spray to cut down on the soap scum. Use as an All Purpose Cleaner for your kitchen counters, appliances, floors, windows, mirrors. Can be used on your window sills. Pour about 1/2 cup in a bucket of water to mop any floor. Use in your Dishwasher as a dish rinse or in the laundry as a rinse.
Soft Scrub
-1 cup of baking soda, borax or Washing Soda
-1 cup of Castile soap
Directions: Mix together and use as a soft scrub for your tub and tile and in the toilet
Liquid Natural Detergent
Can be used for: Dishwasher/Floors/Tub & Tile/Toilet Bowl/Laundry. *

Makes 1 gallon

.
1 cup of Castile Soap
1 /3 cup of Salt
1 cup of Dissolved Borax or baking Soda (Optional)
1 cup of Vinegar (Optional)
40 drops of Grapefruit Seed Extract. ( Optional)
Added boost: add some papaya enzymes (about 4 crushed capsules per gallon) If your skin if very sensitive then just stick to the salt, Castile Soap and the Grapefruit Seed extract or experiment with it.
Directions: Fill a Gallon Jug up 1/2 way with water. Pour 1/2 of the water into a bowl and reserve it. Dissolve your salt, baking soda or borax in a pan of water. Warm the water on the stove on low heat and stir until it is dissolved. Add to your gallon jug along with the Castile soap and the optional vinegar.Fill your gallon jug up the rest of the way. Add Essential oils and Grapefruit extract. Shake the gallon jug well.
Uses: Floors : add 1/2 to one cup to your bucket of water toclean any floor except Pergo. ~Dishwasher - Use in your dishwasher in place ofdishwashing detergent. ~Laundry - Use in your Washing Machine in place of Laundry Detergent. ~Glass Top Stoves - This works well on your glasstop stove. ~Countertops- This will produce a nice shine.
Furniture Polish/Leather and Vinyl Cleaner/Conditioner: *makes 1 gallon; lasts a long time.
3 1/3 cups of Olive Oil
1/3 cup Castile soap
40 to 60 drops of Essential Oil (optional)
10 drops of Grapefruit Seed Extract

*If your are sensitive to essential oils then leave that part out.

Directions: In a gallon jug: Fill half-way with water. Add all your ingredients. Fill the rest of the way up with water. Shake well. Put in a spritzer bottle for use for best results. *

This needs to be shaken before each use.

Uses: on as a furniture polish.Use like armor all on your car interior tires and such. Use on your leather clothes, couches and on vinyl. Use to shine up your stainless steel. Use on painted surfaces and on blinds

.* Not recommended for antiques, or floors. This does not do well on wood, pergo or linoleum floors.
...And there are a lot more wonderful formulas for natural cleaning needs on the Eartheasy site. If any of you have any of your own natural cleaning recipes you can share, please post them in the comments. Happy cleaning!
~Sia in Vancouver, WA
Labels: useful ideas
one of us :: 9:41 AM :: 2 Comments

---------------oOo---------------
Sunday, August 20, 2006
St. Bernard of Clairvaux
Doctor of the Church and ardent promoter of devotion to the Blessed Virgin,

St. Bernard of Clairvaux

was extremely active in the faith as an "adviser of popes, preacher of the Second Crusade, defender of the faith, healer of a schism, reformer of a monastic Order, Scripture scholar, theologian and eloquent preacher..."
He was written many sermons and has lots of little nuggets of wisdom to share, I only wanted to share this one in applying it to motherhood:
"

He who prays and labours lifts his heart to God with his hands

."
Labels: feastdays
one of us :: 4:36 PM :: 0 Comments

---------------oOo---------------
Saturday, August 19, 2006
Friday

Fridays are often seen by most of as the end-of-the week party day. It's the night we can stay up late, as the following morning is the one morning, perhaps, that we can change the pace and sleep in in the morning. It's often the dat when people go out to do something special, or stay home and do something special. Younger student-aged folks like to go out to movies, the Theater, Opera and more... Families often have a "game night" with ice cream or hot chocolate. On many nights we used to have bonfires in the field, enjoying the stars, crickets and fresh air, playing music together and having good beer. I have always loved Fridays for years for just these reasons. We even opted to choose the coffeehouse posts for Fridays, as it seemed fitting.

Today at Mass I was nursing Aidan. As I was sitting there looking at the crucifix, I thought of our Lord's Holy Passion and His love for all of us. He seemed so unreachable at that moment, so far away from most of my thoughts. -My Lord who is there loving me through thick and thin yet who continually longs for more of my love and self. Sure, I give to him all day long, in my every act: in playing with my son, making my husband a meal... in the changing of diapers, the scrubbing of dishes, the routines of my day which make up my vocation. However, I am indeed still far away from being more in union with Him in everything I do. This is what we all call the lifelong spiritual jouney. In this journey we have so many choices along the way to make regarding our growth in holiness. Are we looking at everything that fills our days and asking ourselves if it's edifying? Is it helping to lead us closer to God?

Looking at the crucifix, I was reminded of Good Friday and then realized, "Oh, today is Friday,". This morning I had remembered the day of the week it was and had chosen not to cook meat that day. But after that I didn't give it one thought until Mass. This reminded me of the importance of not just observing this fasting day, but of thinking about it and perhaps doing something in particular that helps to remind members in the household of that day in a solemn way. Although our Faith does not require us to fast from meat or sweets on Fridays anymore, I still think that if you can, it's a good practice to give up one or the other, or both. An inspiring example which I have seen in other families has been an intentional quiet time between the hours of 12-3, the same hours our Lord spent on the Cross. -Perhaps just make that the nap-time, the reading time, the play-quietly time... something more along the lines of contemplative work/play. There are also special prayers which can be said on Friday. In general, let's not fail to keep in mind the Holy event around which our lives are centered! As far as what I mentioned above about Friday being the party day, the activities themselves are healthy, good and fun. That's a great way to spend an evening after a long week of work. It's just interesting how we so often think of that first instead of thinking of Christ's Passion.



~Sia in Vancouver, WA

Labels: Reflections



one of us :: 11:58 PM :: 1 Comments

---------------oOo---------------
Friday, August 18, 2006
Friday Coffeehouse: Saving Every Penny

Today I have just a simple thought to share. By the way, sorry about last week... I completely forgot to write my weekly post and didn't realize it until yesterday... there's a mother's forgetfullness for you.

Lately I haven't been stopping on the go for coffee, nor have I been drinking it in the mornings as I usually do. This is for the simple reason of just not liking it right now. I'm 13 weeks pregnant and am pretty much over the ill-feeling stage, yet still can't quite stomach that acidic drink. The smell is also too strong. I've come to really appreciate my good cups of black tea again, though, and I hope to stick to this as my more frequent hot beverage, as it is healthier, I think.

I have been amazed at how much money I have saved by not drinking as many of those coffees on the go. I usually try to only pay for coffee with any spare change I have in the car. If it adds up to the amount I need for a latte, I get that. If it only adds up to that of a small coffee with cream, that's what I get. But even so, it adds up! $2.oo every day adds up to over $700/year... if you get a fancier drink, something more around $3.00 every day, that adds up to over $1,000/year! If I were to sacrifice my little fixes of coffee on the road and save my money, I could not only be offering something up and practicing self-discipline, but I could be saving up for a wonderful family Christmas present, such as new high-quality cooking pots for the kitchen, good family books or a new puppet theater (for future years)... I can think of countless things. Or I could save that money up and give it to a charity. Either way, it' be neat to start a little car piggie-bank. Every time I'd want a cup of coffee I'd pop $1-3 in there and save up... However, this is easier said than done! I can be too idealistic at times.

(My husband thinks this is a silly idea. He says cups of coffee are worth every cent. Perhaps the little good things in life ARE worth those pennies.)

Happy mothering... more for later.



~Sia in Vancouver, WA

Labels: useful ideas



one of us :: 8:48 PM :: 0 Comments

---------------oOo---------------
St. Jane Frances de Chantal
"Hold your eyes on God and leave the doing to him. That is all the doing you have to worry about."
-St. Jane Frances
St. Jeanne Frances

was one of those remarkable women who remained faithful to God despite all her doubts and periods of spiritual dryness. She serves as a great example for women who seem to be second guessing themselves all the time... who rarely feel those "spiritual highs" that console other people. St. Vincent de Paul had this to say of her:

"She was full of faith, and yet all her life long she had been tormented by thoughts against it. Nor did she once relax in the fidelity God asked of her. And so I regard her as one of the holiest souls I have ever met on this earth."
Labels: feastdays
one of us :: 9:43 AM :: 0 Comments

---------------oOo---------------
Thursday, August 17, 2006
Trying to raise LIttle Saints
I'm using this time to put in a plug for "Little Saints: A Catholic Preschool Program with Classical Disciplines." I've just started this with my soon-to-be four year old. He loves "schooltime"... because the program is designed to be fun and short for little attention spans. It's nothing too rigorous. It simply requires some organization on the parent's part to get everything ready for the lessons. So what I'm doing is preparing everything I need for a month's worth of lessons. Then I'll repeat the process next month. I love that this is a light way to introduce kids to academics; teaching my children to love learning is my goal as an educator. Ooh, that reminds me, I keep promising a post on why I'm choosing homeschooling over public! If you're dying to see my initial feelings on it, you can read that on my old blog here. But that's just chicken scratch right now. I want to take some time to articulate my thoughts better because the more I learn the more convicted I am on this topic for my family. So in time, in time...

-Ellie: Oak Harbor, WA

one of us :: 9:41 AM :: 0 Comments

---------------oOo---------------
Wednesday, August 16, 2006
Question of the Week
We've asked the question, "What do you read for pleasure" and such... Yet a question we have not asked is how you find the time to read at all!

How do you find time in your days to read? Is it over a cup of tea early inthe morning? Is it in bed for 5 minutes before you fall asleep? Is it while you are nursing? Is it while you're cooking dinner? What work for you and how long can you read for?

Please respond by clicking on "Comments".

Labels: Questions



one of us :: 9:30 AM :: 8 Comments

---------------oOo---------------
Tuesday, August 15, 2006
Assumption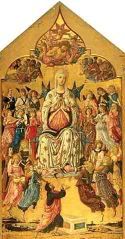 Today was the feast of the Assumption! I know this is late. I've not been able to get on the computer all day. But I just wanted to comment that What Joy our Blessed Mother must've felt at being reunited with her Son! I can not imagine the glory of this homecoming in heaven. May we be blessed to share in her glory some day...

Labels: feastdays



one of us :: 10:19 PM :: 0 Comments

---------------oOo---------------
Monday, August 14, 2006
Not Taking the Blessings of Motherhood for Granted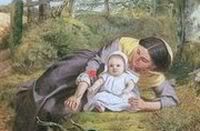 Sometimes I feel like I go through the days too quickly, with a list of agendas and to-dos. and I go and go, not stopping enough to "smell the flowers". I have a pretty contented litle child who is pretty much amiable and happy wherever we are, unless he is tired, ill or teething. This allows me to get a lot done. However, I take this for granted sometimes and realize, when looking back on the last few days, that rarely did I take out a solid chunk of time to be JUST with him, not doing anything else. -Rarely did I look into his eyes and talk to him about something, or play with him for an extended period of time, watching him learn and discover the wonders of his little hands and mind. -Rarely did I take him around the yard and show him a new plant or flower, walk him around the garden and feed him a cherry tomato or a fresh berry. -Rarely did I take him in my arms and make him giggle with that unique, innocent joy which only a child has...such sweet laughter!

I was reminded of this when I today had such a precious moment such as this and heard that sweet sound and really looked into his big beautiful eyes which trust me so completely and show such a fondness and love. This moment made me feel so unworthy and so blessed at the same time. These moments are precious and beautiful, yet so fleeting. It is especially important for me to keep this in mind during a stage in my life that is very trying and hard. Lately I've had the blues and have been struggling with various things, but if I look into my dear little one's little eyes it reminds me of everything that I am called to and of the joys that really matter in my life. I find myself today, after a long dry period of time, giving thanks for my child, his health, his joy. It is such a blessing!

I don't want my little Aidan to reach the age of 19 and be saying to myself, "Why didn't I spend more time with him? Why did I always have to be DOING something while he played happily? Why didn't I spend more little moments with him, watching him grow?" I'd rather look back on his life and know confidently that although time moves quickly and children grow so incredibly fast, that I spent ample time with him and didn't waste a moment. I really hope to someday feel assured of that.

It's this joy I have in these little moments which have really kept me from becoming involved in too many extra activities and duties. -The role of a mother is so fulfilling and busy in itself, that if I don't NEED to do anything extra, such as have a side business or teach a class, then why do it? I'd rather spend each of those spare moments with my little one!



~Sia in Vancouver

Labels: Reflections



one of us :: 9:24 PM :: 2 Comments

---------------oOo---------------

Making Do on Mondays: cop-out dinners

Hello again, so despite being the most organized woman on the block, you may experience a day or two where things don't go according to plan and 5-6 o'clock rolls around, little tummies are rumbling and you have no idea what to make for supper! I will share a few of our "cop-out dinners" for such days, and I hope you will comment with yours. The only requirements are that it be simple and possible with basic ingredients on your shelf...


Pancakes and eggs. Our favorite and most relied upon cop-out. Who can complain about breakfast for dinner?! Most people have the ingredients for this and the kids are always excited to eat something sweet (maple syrupy delicious!)
Tex-Mex. Cook a pot of rice and mix in a can of chili... sprinkle with cheese and let it melt on top. Voila! We eat this with corn chips or rolled up in a tortilla.
Tuna Fish Casserole. A can of tuna, some macaroni noodles, a can of cream of mushroom... maybe some cheese... and peas thrown in. Easy to make and it can be nutritious too!
Quesadillas or "Tacodillas". I mentioned quesadillas in my food recipe page. Refried beans, salsa and cheese are all you need for inside the tortilla (crisped of course). A tacodilla is a term I made up for the same recipe onlly a bit heartier as you put in taco seasoned meat as well before crisping.
Hot Dish. This refers to basically anything thrown together and heated up. I use leftover meat or spaghetti sauce... cook up whatever kind of pasta I have on hand (we like rigatoni and ziti best)... throw in some cottage cheese or mozzerella, mix in any kind of marinara or make your own from tomato sauce + seasonings.... bake it for 20 minutes or so and you have your own little dish of whatchamacallit.
Jazzed Up Sandwiches. Basically, take any normal lunch-time sandwich and heat it up or grill it and it feels suitable for dinner! Even PB &J can be toasted (I like to put mine together and THEN stick it in the toaster oven so the insides are soft and the outsides are crispy). Also using alternative breads make it fun. We make tuna-melts sometimes by putting our tuna mix and a slice of cheese on an english muffin before heating it up.
So what are your "in-a-pinch" suppers?
-Ellie: Oak Harbor, WA
Labels: useful ideas, yummies
one of us :: 1:10 PM :: 6 Comments

---------------oOo---------------
St. Maximilian Kolbe
"The most deadly poison of our times is indifference. And this happens, although the praise of God should know no limits. Let us strive, therefore, to praise Him to the greatest extent of our powers."
Today is the feast day of one of my very favorite saints:
St. Maximilian Kolbe
. This man was martyred in Auschwitz because he opted to give his life for another man's. Enough good things could not be said of him. He started the Knights of the Immaculata and serves as an extraordinary example of strength and courage everywhere. St. Luke Productions (the makers of the movie

"Therese"

is in the midst of producing
a full feature film
on St. Maximilian Kolbe; I am so excited! So please be generous with your donations to this company:
www.stlukeproductions.com
.
This has always touched me:
I asked the Mother of God what was to become of me. Then she came to me holding two crowns, one white, the other red. She asked if I was willing to accept either of these crowns. The white one meant that I should persevere in purity, and the red that I should become a martyr. I said that I would accept them both. -Saint Maximilian

Labels: feastdays
one of us :: 12:54 PM :: 0 Comments

---------------oOo---------------
Saturday, August 12, 2006
A gift to God


My morning Consecration prayer goes like this:

"Oh my God, I offer You all my prayers, works, joys and sufferings of this day. For all the intentions of Thy Sacred Heart, in union with the Holy Sacrifice of the Mass throughout the world, in reparation for my sins, for the intentions of the Holy Father, and the intentions of all our family. Amen."

It occured to me that I have been slipping into thinking this prayer is my "cover all" for those moments I forget to pray, etc. And it is in a way. Especially for mothers whose daily lives and everything they DO is a prayer in and of itself. But it's too easy to make the mistake of praying this prayer and letting your day "happen". What is a Morning Offering? It is a promise of a gift. You are GIVING your prayers, works, joys and sufferings to God... insignificant though they may be... because it is all that is in our capacity as humans to give (besides Love) Him who has need of nothing.

When I give a gift to my friend or child or brother, do I give it and say "Well, I want you to know that this cost me a lot of money..." or "I went through a lot of trouble for you here" or "Here... I hope you're happy now."

Harsh words and feelings ruin a gift. How many times have you been given a "gift" accompanied by a guilt trip? I'm sad to say I've both given and received such "gifts"... which end up feeling more like tokens of misery and selfish intentions. It feels terrible to receive something from someone who was bitter about giving it.

And so it is with a Morning Consecration sometimes. I offer God my works (i.e. my diaper changes, my dishes, my errands, etc. ) and sufferings (i.e. the unexpected bill in the mail, the broken favorite dish, the splitting headache, etc.) but what kind of sentiment am I attaching to this "gift" I give Him? Do I complain? Whine? Feel sorry for myself all day that I am overworked and underappreciated? Even worrying in the extreme can ruin our "gifts" to Our Savior.

And so, I write this now, in order to help myself be more accountable. We shouldn't take such a passive approach to our days by thinking we made it holy by a morning prayer. We should always, always be thinking about these "gifts" to the Father and focusing on giving them with love and serenity... rather than a groan and an angry self-pity. Otherwise what kind of gift would that be?

-Ellie

Labels: Reflections



one of us :: 4:12 PM :: 0 Comments

---------------oOo---------------
Friday, August 11, 2006
St. Clare
Most of us are familiar with
St. Clare of Assisi
, who gave up her wealth to become a follower of Christ and found the Poor Clares. Something pertinent to yesterday's post... she is the patron saint of television and telephones (among other things) so pray to her for guidance and protection in our noisy world.
Go forth in peace, for you have followed the good road. Go forth without fear, for he who created you has made you holy, has always protected you, and loves you as a mother. Blessed be you, my God, for having created me.

-St. Clare



Labels: feastdays
one of us :: 12:58 PM :: 0 Comments

---------------oOo---------------
Thursday, August 10, 2006
Avoid the Noise
"Let all mortal flesh keep silence,and with fear and trembling stand; ponder nothing earthly minded, for with blessing in his hand, Christ our God to earth descendeth,our full homage to demand."
(from the Liturgy of St. James, 4th century).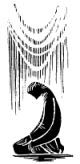 Our culture is so centered on noise. It is becoming worse every day. There seems to be an insatiable need people have to impose themselves on a quiet moment rather than simply receiving the graces that can abound in silence. Computers, phones, TVs, Ipods, PDAs, cell phones, Blackberries... etc. In such a world, how can we expect to grow in intimacy with our Savior? Can we honestly say "Speak Lord, your servant is listening," like Samuel in the Holy Bible? Are we listening? Can we hear Him when we thirst so much for distraction? We can't bear the silence. We get "bored". Silence and contemplation aren't something we actively seek... they are something we avoid until we "feel" particularly reverent at the moment.
When I speak of silence, I don't always mean the pure stillness that isn't common in a mother's life (though this is beautiful and desirable in and of itself), I'm talking about the silence found in saying "No" to artificial stimulation or isolationist communication. Can we strike up a friendly conversation in the grocery line when we are on the cell phone? Can we hear our children giggle in the backyard playing tag when we have the radio blaring? Can we savor the moments of intimacy with our spouse and get to know them more when we plant ourselves in front of the TV together? I for one, am curious to always know more about my husband... I know him so well, yet almost five years after our wedding day... he is a still mystery. He is a beautiful, God created soul given to assist me on my earthly pilgrimage and there are depths to him that have yet to be explored. But I can not expect to grow in intimacy with him if there is too much "noise" blocking the entrance to his mind. And so it is with God, on a much more profound level.
When my husband was deployed last month, I was constantly praying for "strength and fortitude" to get through my lonely or challenging times. But I wasn't even allowing Christ in my life to sustain me! I was seeking every kind of distraction possible. I practically cried in frustration one night when nothing suitable was on TV for me to get wrapped up in! It was that pathetic night that I fell into a long, beautifully painful cry of begging help from our Lord. I turned off the TV and just sat and listened. Unfortunately, I'm not one of those blessed souls to receive locutions from God or anything, so I can't say "He spoke to me" in a literal sense. But it was a monumental moment in my life when I just allowed myself to be. And I talked to God like He was my friend. And I received the silence with gratitude. (The kids were asleep in bed by the way.)
As a society we seem so afraid of introspection... perhaps of the convictions that come when we stop to ponders the riches and meaning of life. We got rid of our cell phone a long time ago. Praise God! I feel so liberated. Frankly, I like to be unreachable at times. And I confess that I fall into the herd mentality that if an emergency happens on the road, the rest of the world has cell phones and they can bail me out. People survived just fine without cell phones in years past. I admit that I miss the convenience sometimes when I'm at the store or when I'm running late... but it's been helpful on our budget for one, and two I relish getting out of the house and not worrying about staying tied to every person who wants to get a hold of us. Thankfully my husband doesn't have a long commute or a job which requires the use of a cell phone, so I won't tar and feather you if getting rid of your phone is out of the question. I only want to tell you that life is possible (and for us, an improvement) without having our leashes on at all times.
The TV. We don't watch it much. My husband hooked up an antenna on the roof so we get local channels for free but most of it isn't very edifying anyway. He likes to watch the news sometimes when he gets off work... and sometimes there's a good Sunday special on, but by and large it's turned off. We are movie watchers, I admit... but even now, our lives are full enough with tending the kids, riding bikes, working in the yard, reading books, going for walks, doing home improvements, visiting with friends, or playing games, that we maybe have time for one or two a week.
I also rarely turn on my car radio when I'm out. I like to listen to my kids talk to me in the van. Sometimes I get annoyed with all the talking... as I just want to lose myself in my thoughts... but those moments in the van can be extemely enlightening. Some of my best conversations happen with my children in the car. And these are the kinds of "quality" talks that parents can't schedule. They just happen.
What am I saying here? I sense that I'm rambling a bit. What I am saying is that it is important, indeed VITAL to be countercultural sometimes... especially by saying NO to the noise in our lives. Listen the ambient sounds of nature or your children or your spouse... or your Divine Master in prayer. Don't seek or wait to "be entertained"... learn how to receive... how to surrender yourself up to the moment without artificial aids telling us what to think or feel or do.
"Finally, brothers, whatever things are true, whatever things are honorable, whatever things are just, whatever things are pure, whatever things are lovely, whatever things are of good report; if there is any virtue, and if there is any praise, think about these things."
(Phillipians 4:8)
-Ellie: Oak Harbor, WA
Labels: Reflections
one of us :: 12:06 PM :: 4 Comments

---------------oOo---------------
St. Lawrence
Today is the feast day of
St. Lawrence
, perhaps most famous for his sense of strange humor when he was being grilled to death: "You can turn me over now, I'm done on this side." This saint put his life on the line to save the documents and material wealth of the Church at a time of intense Christian persecution. For this he is the patron of many, many causes and professions. When asked to bring the treasures of the Church to a Roman prefect, Lawrence gathered together all the poor, sick, and lame people and brought them forward saying "These are the treasure of the Church." Like him, we must be willing to lay down everything, even our lives for the Christ.
Father Pablo Straub
, one of my absolute favorite priests, put it best when he said last year at a conference: "Don't go looking for a fight... but NEVER back away from the Truth."
Labels: feastdays
one of us :: 12:01 PM :: 0 Comments

---------------oOo---------------
Wednesday, August 09, 2006
a couple additions

Just a note that our Contact Us page is finally up and there are two more little recipes on Ellie's food page (the zucchini bread is divine... and the salmon recipe couldn't possibly be easier). More to come from all of us in due time!

Labels: our website



one of us :: 8:39 PM :: 0 Comments

---------------oOo---------------
Edith Stein
Today is the feast day of
St. Teresa Benedicta of the Cross
who was a Jewish woman turned Carmelite nun, martyred in Auschwitz. She has written extensively on the mysteries of our Faith and was a great philosopher. This saint is patroness of martyrs, those who've lost their parents, Europe and World Youth Day.
O my God, fill my soul with holy joy, courage and strength to serve You. Enkindle Your love in me and then walk with me along the next stretch of road before me. I do not see very far ahead, but when I have arrived where the horizon now closes down, a new prospect will open before me, and I shall meet it with peace.

-St. Teresa Benedicta of the Cross

Labels: feastdays
one of us :: 10:02 AM :: 0 Comments

---------------oOo---------------
Question of the Week

Hope is needing a bit of downtime from her online world so Sia and I will be taking over her share of posts for now. Today, I'm using these questions as a sort of lead-in to what I want to write about tomorrow (ooh the suspense!) So:

How do you find your own personal prayer time during the day? Also, what do you think is reasonable for a mother to expect regarding "time away" from the kids?

Labels: Questions



one of us :: 8:05 AM :: 2 Comments

---------------oOo---------------
Tuesday, August 08, 2006
Saint Dominic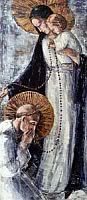 "A man who governs his passions is master of his world. We must either command them or be enslaved by them. It is better to be a hammer than an anvil."



St. Dominic de Guzman

was the perfect example of combining contemplation with activity in this world. Unity with God in contemplative thought isn't just for saints and theologians: it is for mothers, wives, plumbers, and bookkeepers... everyone. This saint is the founder of the brother order to the Franciscans and he is the patron of astronomers, falsely accused people, and scientists among other things.
Labels: feastdays
one of us :: 8:29 AM :: 0 Comments

---------------oOo---------------
Monday, August 07, 2006
Making Do on Mondays: Children Praying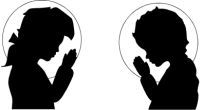 Of course we all want our kids to stay in the Faith... to develop a deep and lasting love of our Savior. One thing that is important to impress on our children is the need for and beauty of frequent prayer. St. John Vianney has written on prayer more eloquently than any saint that I know: "The good God does not require of us fine prayers, but prayers which come from the bottom of our heart." What can be more perfect and pure than the prayer of a child?! We don't need to teach them all the long formulas all at once. But here are some simple ideas we do in our family to help keep our minds on the Eternal:

Pray before every meal. We use the standard "Blessed is the Lord for these Thy gifts..." and at supper time we add to the end: "Lord give food to the hungry and for those who have food, let them hunger after You."
Night prayers. For us this consists of the "Angel of God", a God bless so-and-so litany, and a "Jesus help me be a good boy, I love you Jesus, I love you Mary."
We make the sign of the cross whenever we pass a Catholic Church. The kids wave out the window and sometimes blow a kiss: "Hi Jesus!" It's even better if families could take the time to stop and visit the Blessed Sacrament, even if just for a quick prayer. This helps kids realize the True Presence and the goodness of "visiting Jesus" in the tabernacle.
Whenever we hear an ambulance or pass the scene of an accident we say a Hail Mary for whoever may need our prayers.
(I'm still looking for a good morning prayer for kids... the consecration I use is a bit much for them... so pass along those ideas if you have them).
We pray the rosary whenever we can in the evenings. This is made a special event for the kids because they get to pick out a candle to light (I bought a few of those cheap, tall candles with pictures of saints or angels, Jesus or Mary on them. About 99 cents a piece at some little convenience store somewhere). And then they can sit quietly while we pray or of course they can join in. Then they get to blow the candle out... that's their favorite part. I also let my kids (well the verbal one anyway) say what he wants to offer up each decade for. Sometimes he comes up with funny things like "Let's offer this up so Leo won't steal my cars..." and then I help him form that into a general prayer "Yes, that's good, and so all children learn to love and share like Jesus." Other times, you'd be surprised at the beautiful little prayers he comes up with: "Let's offer this up so bad guys don't hurt people." etc. Give kids the chance to pray from their hearts and you may be humbled by what they come up with...

Finally, I've made my children very familiar with the Divine Mercy image. I think there is no other image so simple and no other prayer so pure as this. My toddler has learned when he is scared or lonely or frustrated, that the best thing to say is "Jesus, I trust in You."
-Ellie: Oak Harbor, WA
Labels: useful ideas
one of us :: 7:36 AM :: 5 Comments

---------------oOo---------------
Sunday, August 06, 2006
Feast of the Transfiguration of Christ
Happy Feast of the Transfiguration! This is the event in which Our Lord's divinity was gloriously revealed...

"Now it came to pass, about eight days after these sayings, that He took Peter, John, and James and went up on the mountain to pray. As He prayed, the appearance of His face was altered, and His robe became white and glistening. And behold, two men talked with Him, who were Moses and Elijah, who appeared in glory and spoke of His decease which He was about to accomplish at Jerusalem... " ~Luke 9:28-31
Labels: feastdays
one of us :: 1:21 PM :: 0 Comments

---------------oOo---------------
Saturday, August 05, 2006
Angels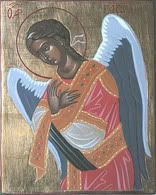 What powerful intercessors we have in our angels! God has given us these guardians from Heaven to assist us on our earthly journey- to draw us ever closer to Him who is above all else. I think sometimes we forget our guardian angels... long lost is our childhood prayer "Angel of God, my guardian dear..." I know that I sometimes pray to my angel when I experience a moment of deep fear but rarely do I give my heavenly best friend the time of day otherwise. As a whole, we should really tap into these sources of guidance and grace much more often. Your angels assist you in times of temptation. Your angels assist you in times of discernment. Your angels protect you probably much more often than we could possibly realize. Everyone has stories about some unexplained "miracle" in their lives or the lives of those they know; many of these can be attributed to angels from Heaven. (*Mine involves a near drowning incident when 'someone' pulled my hair out of the filter that had trapped me under water*)

I've started praying to the guardian angels entrusted to my children. I ask them for help in raising them on the straight and narrow. I pray that they cloak them from the evils in this world by helping them to make good choices... by helping them to remember the Presence of God throughout the day.

I pray to the guardian angels of any future spouses my children may have also... asking them to assist in the formation of their character and help them to maintain their purity and inclination toward God throughout their childhood. It's never too early to start!

Someone said something a while ago about Pope John 23rd that I hadn't ever heard before (in fact I don't even know if it's true, but it still illustrates a great point): whenever he was going to meet someone, especially for the first time, the pope would dispatch his guardian angel to go talk to the other person's guardian angel and thus smooth things over for the initial encounter. And supposedly, it always worked! And so I've started this practice... asking my guardian angel to get together with the angels of people I'm about to meet and help make us both predisposed to the graces that may be available in our encounter.

In short, our Father has given us a great gift and wonderful help through His angelic servants. They know both us, and our Lord better than any human best friend we may have; I am certain that great good could come from us communicating with them more often.



-Ellie: writing from a little vacation in Ogden, UT

Labels: Reflections



one of us :: 4:01 PM :: 1 Comments

---------------oOo---------------
Friday, August 04, 2006
Friday Coffeehouse: Fair Trade Coffee
As a reader reminded me a few weeks back, I have been thinking about how important it is to keep in mind which businesses we patronize. Given how much coffee many of us drink in our households, I think it's important to try to patronize businesses which will make a global, economical and social difference. (That is, if the coffee itself is decent!) We are called to be good stewards of the earth. Therefore we need to take that seriously to many levels... We should be recycling, if we can. We should be composting, if we can... The list goes on, but I will save that specific topic for a different time. In the meantime, I looked up "Fair Trade" and discovered not only an environmentally sound coffee company, but one that is endorsed by the Catholic Relief Service.



"...The United States Conference of Catholic Bishops supports Fair Trade programs through which disadvantaged artisans, farmers and farmworkers receive fair compensation for the goods they produce..."



Some words from the Grounds For Change company:



Grounds for Change grew out of the idea that, as part of the global community, it is our responsibility to make our purchase decisions wisely, taking into account the environmental, social and economic impacts of our spending...Coffee is the world's second most valuable commodity behind petroleum and given this scale, the opportunity to make positive change is tremendous.


Grounds for Change is a family owned and operated coffee roasting business located in the Pacific Northwest. We roast our Fair Trade, Organic, Shade Grown coffee to order, by hand, in small batches to ensure that you receive the freshest coffee possible...
All of our coffee is fair trade certified...


The coffee we sell is also shade grown coffee

which ensures healthy habitat for migratory birds.
Grounds for Change coffees originate from communities throughout Latin America and the Pacific. We make it a priority to know exactly where our coffee is grown and that the importers we work with are committed to developing long-term, lasting relationships with small coffee farmers. Grounds for Change is a sustainable business. We use 100% renewable energy through Puget Sound Energy's Green Power Program...Our belief in the importance of supporting social and environmental causes permeates our business and personal lives.

So, once again, we're putting in a plug for the "little man"... Check this company out and please consider supporting companies which will have a positive long-term efffect on our world and on society.

~Sia in Vancouver, WA

one of us :: 8:33 PM :: 2 Comments

---------------oOo---------------
The Cure of Ars
I have a personal affection for

St. John Marie Vianney

and so I can't say enough good things about him. He used to spend 12-16 hours a day in the confesssional... so devoted was he to bringing the absolution of Christ to the world. A friend told me also that he is also the only canonized parish priest; all other priestly saints were from orders. Here are some words... there are many more of his writings for which that this little blog has not the space so look into it on your own; it will be worth your time:

My little children, reflect on these words: the Christian's treasure is not on earth but in heaven. Our thoughts, then, ought to be directed to where out treasure is. This is the glorious duty of man: to pray and to love. If you pray and love, that is where a man's happiness lies.

Prayer is nothing else but union with God. In this intimate union, God and the soul are fused together like two bits of wax that no one can every pull apart. This union of god with a tiny creature is a lovely thing. It is a happiness beyond understanding.

My little children, your hearts, are small, but prayer stretches them and makes them capable of loving God. Through prayer we receive a foretaste of heaven and something of paradise comes down upon us. Prayer never leaves us without sweetness. It is honey that flows into the souls and makes all things sweet. When we pray properly, sorrows disappear like snow before the sun.

Some men immerse themselves as deeply in prayer as fish in water, because they give themselves totally to God. O, how I love these noble souls!

How unlike them we are! How often we come to church with no idea of what to do or what to ask for. And yet, whenever we go to any human being, we know well enough why we go. And still worse, there are some who seem to speak to the good God like this: "I will only say a couple of things to you, and then I will be rid of you." I often think that when we come to adore the Lord, we would receive everything we ask for, if we would ask with living faith and with a pure heart.
Labels: feastdays
one of us :: 9:25 AM :: 0 Comments

---------------oOo---------------
Thursday, August 03, 2006
Youth Minister Needed in Camas, Washington

I know that this site is about motherhood, but it is, after all, a Catholic site and has enough publicity that I wanted to throw this out there...

Do you know of any solid Catholic person who is looking for a youth ministry job and would like to live in the scenic Columbia River Gorge area of Camas, Washington, just 15 minutes away from Portland, OR, with the Cascade mountain range in view?? Father D. Lappe is a joy to work with and is very solid and energetic. Please pass this on if you know of anyone, and keep in mind that Father needs someone ASAP! Thank you-

~Sia

Below is the word-for-word add in our parish bulletin (of St. Thomas Aquinas Catholic Church)


St. Thomas Aquinas Parish seeks a youth minister to direct Middle School, High School, and Young Adult programs. Our youth programs provide opportunities for faith formation, retreats, socializing, along with community outreach and service. This position also plans and directs a comprehensive Confirmation program for High School students. Candidate must be able to lead, inspire, and communicate with youth and adult volunteers, and work cooperatively with parish staff and parents. A succesful candidate would be an active Catholic who is excited about their faith, enjoys working with youth, has good organizational skills, a zeal for evangelization, and wants to grow in their own relationship with Jesus Christ. Full-time position with salary and benefits based on qualifications and experience. Send letter and resume to:

YOUTH MINISTER SEARCH,
ST. THOMAS AQUINAS CATHOLIC CHURCH
324 NE OAK ST.,
CAMAS, WA 98607

or, fax to:

(360)834-5106

or email Fr. Derik Lappe:

frdlappe@st-thomascamas.org



one of us :: 6:03 PM :: 0 Comments

---------------oOo---------------
Wednesday, August 02, 2006
A Mother's Dark Night of the Soul, Part II

"This is the only society in the world where the woman is expected to do everything on her own. There is much pressure and it causes a lot of problems for many women." So said the psycologist at my first meeting with her during my post-partum depression. She strongly encouraged seeking practical help from friends since I don't live around family. How contrary to my pride, to my education since preschool in the way of "feminism"! I felt repulsed at the fact that I should not be doing every single aspect of homemaker, mother and homeschooler on my own. However, I allowed those kind souls who offered to help (like taking the children for the afternoon, picking up some groceries, schooling the children, bringing by a meal, etc.) to help me out, and they were happy to. Now, while I am not going through depression anymore, I've learned to still take people up on their offers. They feel good to be helping out and it is so nice to be relieved of some of this Grand Work no matter how small the assistance.

My neighbor, Miriam, mother of 12 children, recently moved her widowed mother in with them. She told me that her mother started doing the family's dishes all the time and cleaning up here and there. When Miriam told her mother she shouldn't be doing her job for her, her mother's reply was this: "A long time ago I heard Fulton Sheen give a talk and he said 'we need the poor more than they need us' and I need to do those dishes more than you need my help." It is so hard to accept charity! When my friend Amy's three daughters were all babies many people were helping her out. She spoke to a priest because she was having a hard time receiving help. He told her, "Part of charity is being able to receive it. It is not just giving it."

My spiritual Advisor, was telling me about a talk he heard by Sally Fallon (author of Nourishing Traditions and founder of the Weston A. Price Foundation). Part of the talk she was speaking about women assisting each other, historically and culturally. She said women are the only mammals that stop reproducing and it is in order to help out the younger generation of women. How beautiful! Our bodies are fertile for a short while compared to the big picture of our entire lives. When we are no longer fertile and we grow gray hairs and have wisdom from years of growing our family we can continue the honor of assisting, where needed, our daughters and daughters in law: at birth and shortly after, a little help around the house, taking the grandchildren while she shops and gets a cup of coffee once a week to revive, giving the couple much needed time together alone on a date once a week, helping out with meals, helping out with homeschool, helping out during pregnancy (especially the last trimester or early on with morning sickness), etc. I long for this help now with the phase of life I'm in. And I see myself as this woman in the future from the families that will grow from the beautiful love between my husband and me. Part of charity is receiving it and I've accepted that. I also give it according to my state in life: first and foremost in little acts for my family and then in reaching out, like a meal for a new mother, giving away clothes my children grow out of, visiting an old folks home with my children, visiting a family member in need, etc.

I just heard a mother of 11 children say that she always wondered why The Visitation (where Mary, while pregnant, visited and helped out her pregnant cousin Elizabeth) would be considered a mystery. She realized that Mary's first act as Mother of God was an act of charity (and St. Elizabeth received!). Miriam said when she and her sisters were having babies one of them would cart all their children and go stay at the sisters house who just had the baby. While it was chaotic (for there were many children as the years progressed), the new mother and baby got to get adequate rest while the needs of her house were taken care of. I think this is really sweet and I'm talking with my 3 sisters about doing this for each other.

Here is a quote by Pope Benedict XVI, in his first encyclical, Deus Caritas Est:


My deep personal sharing in the needs and sufferings of others becomes a sharing of my very self with them: if my gift is not to prove a source of humiliation, I must give to others not only something that is my own, but my very self; I must be personally present in my gift. This proper way of serving others also leads to humility. The one who serves does not consider himself superior to the one served, however miserable his situation at the moment may be. Christ took the lowest place in the world- the Cross- and by this radical humility he redeemed us and constantly comes to our aid. Those who are in a position to help others will realize that in doing so they themselves receive help; being able to help others is no merit or achievement of their own. This duty is a grace. The more we do for others, the more we understand and can appropriate the words of Christ: "We are useless servants" (Lk 17:10). We recognize that we are not acting on the basis of any superiority or greater personal efficiency, but because the Lord has graciously enabled us to do so. There are times when the burden of need and our own limitations might tempt us to become discouraged. But precisely then we are helped by the knowledge that, in the end, we are only instruments in the Lord's hands; and this knowledge frees us from the presumption of thinking that we alone are personally responsible for building a better world. In all humility we will do what we can, and in all humility we will entrust the rest to the Lord. It is God who governs the world, not we. We offer him our service only to the extent that we can, and for as long as he grants us the strength. To do all we can with what strength we have, however, is the task which keeps the good servant of Jesus Christ always at work: "The love of Christ urges us on" (2 Cor 5:14).

~Kerensa: Annapolis, MD
Labels: Reflections
one of us :: 11:18 PM :: 1 Comments

---------------oOo---------------
Tuesday, August 01, 2006
St. Alphonsus Liguori
A powerhouse theologian and Doctor of the Church,
St. Alphonsus Liguori
has many memorable thoughts and quotes you can google up. I particularly liked this:
If we would give full satisfaction to the heart of God, we must bring our own will in everything into conformity with his; and not only into conformity, but into uniformity also, as regards all that God ordains. Conformity signifies the joining of our own will to the will of God; but uniformity signifies, further, our mkaing of the divine and our own will one will only, so that we desire nothing but what God desires, and his will becomes ours. This is the sum and substance of that perfection to which we ought to be ever aspiring; this is what must be the aim of all we do, and of all our desires, meditations and prayers. For this we must invoke the assistance of all our patron saints and our guardian angels, and, above all, of our divine mother Mary, who was the most perfect saint, because she embraced most perfectly the divine will.
-Saint Alphonsus Liguori, from The Redeeming Love of Christ
Labels: feastdays
one of us :: 1:17 PM :: 0 Comments

---------------oOo---------------
Reflections on my First-Time Labor and Delivery
One year ago today I was in labor with my first child, who was to be named Aidan. ( I didn't know that at the time!) I thought I'd share some reflections on that event, as it's definitely a topic which most of we women love to share and hear over a cup of tea. Men, be warned: Below content may be a bit too much for you if you haven't gone through this with your wife already!

My labor was a very peaceful, beautiful one, although it was indeed brutal and long. I was blessed to have a homebirth, with my husband, mother and the midwife by my side whenever I needed them. Aidan was posterior for the whole of labor and finally turned just before coming out. One year ago yesterday my water broke at 4:45 AM, putting me immediately into the early stages of labor. I then remained in labor until the next day (today) at 6:40 PM when Aidan took his first breath of air. The labor was all back labor, which, as many of you perhaps know, feels like a truck driving into your back, or like a sledgehammer being pounded into it during the whole contraction. Something my midwife had on hand was her birthing ball, which is basically the same as those yoga balls in the stores. I ended up using that for most of my labor, as it provided the same position as the "pelvic rock" position on hands and knees but didn't involve me having to use my arm/wrist muscles. I simply put my chest on the ball and stayed in that position through each contraction. I also found the shower to be really helpful for relaxation. I share these aspects with you all because if you have back labor, you may find that these things really help!

Being in labor, believe it or not, was something that I had always longed to do ever since I was the age of 15. I wanted to go through that life-giving pain. It wasn't terrifying or scary to me; it was a life-giving force which resulted in a beautiful new baby. Of course, I had the privilige of going to many other births with my mother who is a midwife. I was sort of her apprentice for a time. -I was also blessed to be able to witness the birth of 3 of my siblings. So I suppose that helped me to prepare for my own birth quite a bit. So when the time came, I felt ready to go. I felt strong and capable. I had been swimming laps for my whole pregnancy 4-5 days a week for 45 minutes straight and felt fit as a fiddle! Little did I expect that it would take me 36 hours to go through the labor of my son...When I was in hard labor, and especialy towards the end, left with nearly no energy during the hardest part, I didn't think I'd make it. -You know, the stage when you're not laboring peacefully and beautifully anymore, but are starting to look like a hag and are wasted, wasted, wasted. I literally felt like I was going to die. I'm sure many of you can relate! Yet something incredible happens: your body does it! God helps you through that incredibly demanding time, and even with no food or drink inside of you anymore, in the midst of utter fatigue, you push and your baby is born! It's truly miraculous!

Going through labor can be a very spiritual event. Ellie says that she feels like she can unite herself to Mary in her pain of childbirth. I found my self "clinging to the Cross" in this painful time. It was, to me, a time of union with our Lord who also suffered through life-giving pain, and in the end, in a very physical way, through blood and water, gave birth to new life: the Church. It's amazing how childbirth and His crucifixion parallel each other.

On a home-birth note: The aspect I loved most about having my baby at home was that it was my home: the place where I felt most comfortable and easy-going. I walked up and down my own stairs by my husband's side to get labor going when it slowed down. I took showers in my own tub. I made Aidan a birthday cake in my own kitchen during the first few hours of the "easy labor"... the list goes on. We lit candles in our bedroom to help me to be peaceful and to get rest, to inspire us all towards prayer. My husband and I were able to have privacy and be alone together for periods of time. He was my primary "birthing coach" throughout most of my labor. (And boy, was I impressed!He had never seen a birth, let alone hold a baby, and he was my prince the whole time. Everything came naturally to him.)

I think your body does best in labor when it can relax best and when we focus on the pain. I felt very blessed that all went safely and that I was able to give birth on our own bed, in my own home, where Aidan immediately entered his familiar territory, where we could bond with him best and be a family. After all, giving birth is not a medical problem; it is a natural part of life and women have been doing it forever. I'm grateful that hospitals are there for the dangerous times, for emergencies. But unless something goes wrong, homebirth is the route I hopefully will be able to take for the rest of the children.

By the way, we are expecting our second wee one in the end of February... please do keep our new little one on his/her way in your prayers, as well as Ellie's, who is coming much sooner! I'd like to start a prayer chain or prayer list for expectant mothers. Hmmm...

Nuestra Seniora de la Leche y Buen Parto, Pray for us!


(Our Lady of Milk and Good Birth, Pray for us!

)



~Sia



one of us :: 12:46 PM :: 8 Comments

---------------oOo---------------

Victoria's Secret Sit-In

Some of you may have already heard about this. In a Victoria's Secret store, a breastfeeding mother was hassled by a clerk. Themother had been willing to go into a dressing room to nurse, but when there weren't any available at the time, sat in a chair in the open hallway area. She was then told that nursing in the open was "offensive"! The clerk opened the bathroom door for the woman. She replied, "I don't eat in the bathroom and either does my daughter." -Good answer.


It amazes me that in a store where they have many of their own adds all over the walls, showing breasts left and right, that when a woman who goes to nurse her child, using breasts FOR THEIR PURPOSE, gets hassled, and is told that it is an indecent act:

"...The leader of Saturday's demonstration in front of a Cleveland-area store said Victoria's Secret 'plasters breasts everywhere' but seems offended when they're used for their intended purpose..."

The woman went on to organize a breastfeeding sit-in demonstration in front of a store. I couldn't put the image up on our site, but click HERE to read the article and to see the photo of the demonstration.
Here are some words from the woman herself:

"I understand that some businesses might not want to open up a dressing room for a nursing mom because it's taking up spots for customers," she said. "It's about being told that it's dirty, that it needs to be in the bathroom and needs to be away in private. That's the mentality that we're trying to fight."



~Sia

Labels: in the news



one of us :: 12:40 AM :: 7 Comments

---------------oOo---------------