Monday, August 28, 2006
Making Do on Mondays: Photography 101
Not everyone has a "photographer's eye" so to speak. Like all arts it takes part talent and part technique. The photos you see from professional photographers are, remember, the best of their best. Oftentimes they go through rolls of film to get ONE shot worth showcasing. However, all parents have a vested interest in getting decent pictures of their kids. And I've been to enough photography studios to know that oftentimes the best photos of your kids aren't the ones you pay out the nose for... they are the ones you take yourself.

So although I'm not a professional photographer, I have taken a class or two... and I did spend most my high school career as a videography geek, plus I worked on the side doing shoots for various events. I want to share a few really easy tips that can make it easy for you to get wonderful photos that are more worthy of a frame than the professional, expensive stuff we see on most household walls. Why spend that kind of money when you are the one seeing your kids at their very cutest moments?!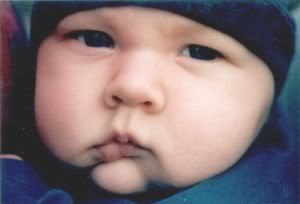 Don't be afraid to go close. Using up your full frame is a key in professional looking results. You can see your subject's finer details well while eliminating distracting backgrounds.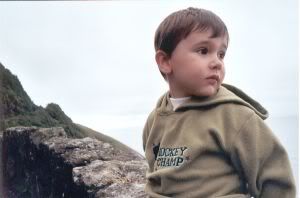 Place your subject off-center sometimes. This is one of the biggest mistakes people make in snapping photos. They put the person/people in the middle of their viewfinder and just click. Instead, make sure you don't have a lot of space above the head. Also, imagine your viewfinder is segmented into three equal parts (so two dividing lines). Place the subject one of those lines... it's much more asthetically pleasing. You see this technique done all the time on news channels and when watching interviews.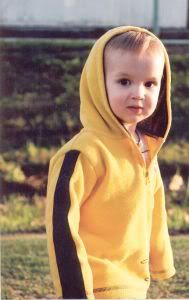 Plain colors are best... both in clothing choices and backgrounds. Oftentimes loud patterns can distract from your subject. And don't worry too much about that "perfect outfit"... the quality of the photo isn't in what your child is wearing, it's in the affect they show.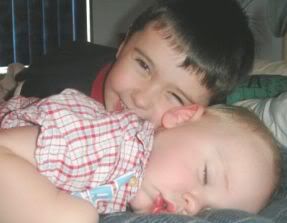 Try some different angles other than just standing there and taking the shot that you see from your height. Get low to the ground and catch your crawler coming toward you. Or stand on a chair and zoom in to get a different look. Shoot through the slats of a fence. Get behind the baby and call their name to look back at you. Shoot profiles. Have fun experimenting with your angles. Perspective is critical in getting a good shot.
You can make your own "studio" just by throwing down a nice blanket or some fabric. Even placing your kids in front of an old rickety fence, or solid hedge makes for a nice background. I just threw down an old feather boa I found before taking this shot.
The best time to take pictures is at sunset. The coloring provided by a fading sun is the most flattering you'll get all day. The worst time to take pictures is under a high, bright sun that casts all kinds of shadows and highlights skin flaws.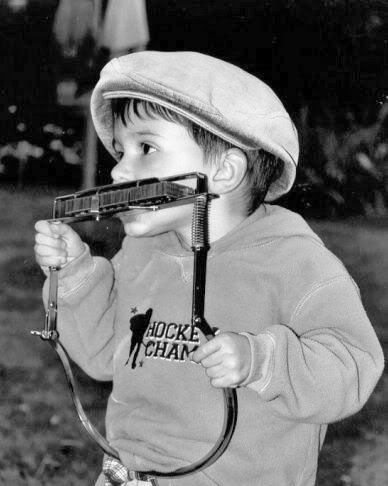 Finally, don't try to stage your shot too much. Kids look their best when you catch them in a candid moment... picking a flower, trying on Papa's boots, or yes, the classic spaghetti-on-the-face. Getting a nice smile often isn't worth the trouble you put into making them do it.

Have fun! Remember that any film you develop can be enlarged for framing... or you can take it to the Kodak Picture Makers at most drug stores and get it cropped or turned into Black and White, enlarged, wallet sized, etc. So try out taking your own hallway show-off photos today!
-Ellie: Oak Harbor, WA
Labels: useful ideas
one of us :: 9:59 AM :: 6 Comments

---------------oOo---------------