Monday, July 31, 2006
St. Ignatius of Loyola
Today let us pray especially for the Society of Jesus (just learned that the term "Jesuits" was initially an insult given to them by opponents) .
St. Ignatius of Loyola
was their founder in the 16th century and I'm certain he must be a strong intercessor for that group today. One of the greatest and most simple prayers of the Church was authored by this inspiring man:

Lord Jesus Christ, take all my freedom, my memory, my understanding, and my will. All that I have and cherish you have given me. I surrender it all to be guided by your will. Your grace and your love and wealth are enough for me. Give me these, Lord Jesus, and I ask for nothing more. Amen.
Labels: feastdays
one of us :: 10:45 AM :: 0 Comments

---------------oOo---------------
Making Do on Mondays: Artsy Alternatives
Most of these are old tricks, but they don't always see a lot of press and I think they are wonderful little activities to encourage artistic tendencies in your child... and on a budget too!



You know the culprits- those broken up chunks of crayons that no kid likes to reach for anymore. Well, gather them up, peel the wrapper off them and put a few different colors in a glass measuring cup and bake on 350 for a few minutes. Then you can pour the melted colors into plastic cookie cutters or candy molds and let them cool for a few hours. Kids suddenly have fun new big, chunk crayons to play with! I've found that if you let them melt too long, the colors kind of run together so you have to watch it. Or you can put like colors in different containers to bake and then customize your swirls and rainbow effects in the mold. Muffin tins with paper liners also work if you just want big, chunky crayons useful for shading.

Making playdough is simple enough, but here are a couple fun recipes to use where you don't have to worry about your little ones swallowing chunks of it:

-2 parts oatmeal

-1 part water

1 1/2 parts flour

Knead until soft. Food coloring can be added to the water before mixing it in.

I also liked this following recipe I found because it sounds like it actually tastes good! Though I'm not sure colors would work in it.

8 oz. creamy peanut butter

3 TBS. honey

1 cup dried, powder milk

Add powdered milk until mixture becomes dough-like.

Now this should be perfect for those warm summer days:

-1/4 cup water

-1/4 cup cornstarch

-6 to 8 drops food coloring

Just mix it all together and there you have a great base for painting in driveways or on sidewalks... it washes of easily with water.


-

Ellie: Oak Harbor, WA

Labels: crafty posts



one of us :: 10:02 AM :: 2 Comments

---------------oOo---------------
Sunday, July 30, 2006
Keeping the Lord's Day Holy
Keeping the Lord's day holy is a commandment. It is very hard to know how to do this in a culture which, in most places, doesn't recognize Sunday as a day set apart from others. Some folks opt to not patronize busineses, others don't leave the house and stay at home doing quiet activities, etc. I think that in every way possible it's a good idea to, in some way or another, teach children in a household that it is a different day from the rest. Of course, Mass itself changes on Sundays. During the week the Mass typically is a shorter, simpler celebration, whereas on Sundays there are often many altar boys, more singing, an organ, incense and, in general, a longer, higher celebration. This alone stands out to children as a "special" day. And thank God for the Mother Church which is there to center our days!

Back at home, though, after Mass, should it be simply a day "off" to have fun or should there be even more to really remember the special feast that it is?
Some random ideas on how to set this day aside and keep it "sacred" would be to:



limit the music in the house to only classical
put a beautiful tablecloth on the table and make a special breakfast, brunch or dinner depending on the schedule
read a good book aloud over pots of tea
play games together as a family
have gathering with other families for a fun, bright social day...
emphasize spiritual readings

In general, I emphasize family time, wholesome activities and reading and good, "higher" music forms to try to keep the day sacred and holy.

Growing up, Sundays were the highlight of my week, because I knew that I would have time to paint, draw, read for much longer periods of time, write long letters, and more. It was a day in which I didn't have as many duties as I usually did. My sister took this day to try new delicious sweet recipes. By midday we usually could expect to try something wonderful from the oven together over a pot of tea. It was, in general, a day I could expect to see my family all day, have time to play games, go on walks and make music together... and brunch was always something to look forward to: we spread a nice tablecloth, used the good dishes and looked forward to the never-ending feast, starting with the meal, then moving on to jam and toast, then finishing with more cups of tea or coffee, long conversations and extended newspaper reading. I knew many other families who did their own different things, which I always admired and looked up to. Now, being married and starting my own family, we have our own focuses. We sometimes go on a family hike, spend the whole day reading, or just cultivate quiet during the day. We're not even in our own house yet, so it makes it a hard time to start family traditions.

I don't think that one way is the right way. Each family has their own charisms, their own traditions, their own strengths and weaknesses. But we can all learn from one another and keep praying for the blossoming of our own families to take place, for Our Lord's Will to be done in each of our own households and families.

If any of you have your own traditions you've already started, or have thoughts and ideas to share, please click on "post a comment" and pitch in your 2 cents.

Happy Sunday to you all!

~ Sia writes from Vancouver, WA

Labels: Reflections



one of us :: 11:56 AM :: 6 Comments

---------------oOo---------------
Saturday, July 29, 2006
A saint to whom we can all relate
St. Martha's
feast day is today... the poor woman who received Jesus' gentle rebuke for not stopping her daily duties to just sit and listen to Him. I know how difficult it is to put our chores and events of the day on hold to spend time in reflection and prayer, but this is exactly what we must focus on doing more. Eternity is forever; the distractions can wait. While something important can be said about using our work and trials as a form of prayer for His glory, nothing compares to the communication with our Savior that can only be found in silence or solitude (even if you have to wake up a half-hour earlier than the rest of the household, or lock yourself in the bathroom for 15 minutes).
St. Martha is the patroness of homemakers, housewives, butlers, cooks, domestic servants, travellers and single laywomen.

O blessed St. Martha, your faith led Jesus to proclaim, "I am the resurrection and the life"; and faith let you see beyond his humanity when you cried out, "Lord I believe that you are the Messiah, the Son of God." With firm hope you said, "I know that God will give you whatever you ask of him", and Jesus called your brother Lazarus back from the dead. With pure love for Jesus you welcomed him into your home.

Friend and servant of our Saviour, I too am "troubled about many things". (Pause for silent prayer.) Pray for me that I may grow in faith, hope and love, and that Jesus, who sat at your table, will hear me and grant me a place at the banquet of eternal life. Amen. (Luke 10:38-42 / John 11:1-54)
Labels: feastdays
one of us :: 3:08 PM :: 0 Comments

---------------oOo---------------
Friday, July 28, 2006
Friday Coffeehouse: Tintin
Comic books: I think that they can be a waste of time and degrading to a child's mind and intelligence if they are stupid and low-humored. Yet if comics are well-thought out by the author/artist and are pleasing for you, the parent, to look at and read as well, then I think it can be an edifying and fine activity for a rainy Saturday afternoon. Personally, I hope to only allow comic books in our own family on the above type of day, as there are too many classics out there to even be able to read. But for those "good" comics I speak of, I'm putting in a word for Tintin.
Tintin was written by the artist and author Herge. It is a strikingly well-balanced comic series of action and adventure, mystery, exploration, walking and hiking, cups of tea, opera, reading and fireside chats with a local. Tintin is a journalist who travels the ends of the earth, knows how to defend himself, is intelligent and gets to the bottom of every mystery, and knows the good things in life: his brisk walks in the morning sunshine and his meals and steaming cups of tea on the terrace of the house.

Tintin's adventures take the reader to the mountains of Tibet, the Rainforest, Pyramids, Italy, highlands of Scotland, the great desert, and many more places. There are many delightful different characters, such as the retired sailor Captain Haddock, the deaf, brilliant Proffesor Calculus, Tintin's loyal dog Snowy, identical twin dumb police and the iron-jawed thugs who smoke cigars. The humor is witty, creative, over-the-top hilarious and inspires creativity in the children's vocabulary. I love hearing one of my siblings yell out in playful frustration,
"Thundering Typhoons!"
or
"Billions of Blue Blistering Baracles!"
Or when calling somebody a playful insult, rather than something conventional such as
"butthead"
(pardon the use of that ugly term!), they choose
"nincompoop"
or
"you interplanetary goat, you!"

To me, the books are just so astoundingly good. Herge has his weaker ones, but I would definitely say that some of his best would include
The
Calculus Affair
,
Tintin in Tibet
and
The Red Sea Sharks
. Children between the ages of 8-12 usually enjoy them the most, but as I said, they are still enjoyable to me now.
~Sia writes from Vancouver, WA
Labels: Books Music Culture
one of us :: 6:56 AM :: 5 Comments

---------------oOo---------------
Thursday, July 27, 2006
How not to parent your children...
Kyrie Eleison.
Labels: in the news
one of us :: 11:00 AM :: 7 Comments

---------------oOo---------------
Wednesday, July 26, 2006
Question of the Week (or two)

There have been so many awesome things going on on the site lately... would you mind if I changed the subject and asked some opinions on.... DAILY MASS

To go with children and struggle through it or to just wait for Sunday?
To sit in the front where they can see, or in the back where you're less distracting?
To give them toys, books, food etc. or just power through it without props?

Please offer your experiences, good or bad, and tips that you might have to share on this subject- I'm sure that we can all learn from each other here.

Labels: Questions



one of us :: 10:05 PM :: 1 Comments

---------------oOo---------------
Happy Feast of St Joachim and St Anne!
Happy Feast Day! Sts. Joachim and Anne were the parents of Mary, the Mother of God. What a beautiful example of marital love for we who are married.
"Joachim and Anne, how blessed a couple! All creation is indebted to you. For at your hands the Creator was offered a gift excelling all other gifts: a chaste mother, who alone was worthy of him. Joachim and Anne, how blessed and spotless a couple! You will be known by the fruit you have borne, as the Lord says: "By their fruits you will know them." The conduct of your life pleased God and was worthy of your daughter. For by the chaste and holy life you led together, you have fashioned a jewel of virginity: she who remained a virgin before, during, and after giving birth. She alone for all time would maintain her virginity in mind and soul as well as in body. Joachim and Anne, how chaste a couple! While leading a devout and holy life in your human nature, you gave birth to a daughter nobler than the angels, whose queen she now is.
-from a sermon by Saint John Damascene

Catholic Online has more...
Labels: feastdays
one of us :: 9:09 PM :: 0 Comments

---------------oOo---------------
My daily dose of humility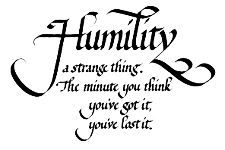 I met my OB/GYN yesterday, the man who'll likely deliver my baby in about 6 weeks. Without going into great detail about this doctor visit, I'll just say that I left the office pretty indignant and upset. With my last two births, I was blessed that our previous duty station contracted out all the OB care to civilian doctors, and I had a wonderful midwife deliver both my boys. It was a great birthing experience; I felt in control of my decisions and like what I said and felt mattered.

I am afraid that luxury won't be here this time around. There isn't a midwife for miles and our military insurance will only cover my care right here on the base. I was apprehensive from the get-go but I didn't imagine to feel THIS malcontent about my doctors.

I have such a spiritual ideal of how I envision my labor and delivery to go... giving birth is such a remarkable way for me to connect to the suffering of Our Blessed Mother. When I left the office yesterday, I felt like it would be impossible to find any spiritual meaning in that place at all. They are very sterile, slightly condescending, and somewhat aggressive about their "precautions" and pain medications. While the doctor said that no one will force me to do anything I don't want to... I got the feeling that he'd think I was a total idiot if I didn't do exactly what he thought was right.

Anyway, the point I wanted to make through all this is that it dawned on me today... after a day of griping about how terrible they were and how I DESERVED the birth experience that I wanted, that this was a golden opportunity for grace. Our Lady didn't have her ideal circumstances when she gave birth to Jesus. Her frustration at being turned away place after place must've been nerve-wracking. And then to have the delivery out in a cave or a manger in the company of animals... probably was not what SHE envisioned for the birth of the Savior of Mankind.

And so, there I have it... my blessing in disguise. The joy and providential grace of a newborn baby can not be dependent on the circumstances of its arrival. While I still feel a bit of dread about my next visit, I'm thankful that God may be entrusting me with a tiny opportunity to suffer for His sake.




-Ellie: Oak Harbor, WA

Labels: Reflections



one of us :: 9:05 AM :: 1 Comments

---------------oOo---------------
Tuesday, July 25, 2006
More on dipes

I can't get away from this topic right now! When I'm in need of new diaper supplies, I get on a quick obsession and scour the internet trying to find the perfect store and reading hundreds of reviews on different products. Even if I was to buy (and I only rarely do) the fancy diapering supplies with the cutesy prints, I know I'm still saving hundreds of dollars in the long run (thousands depending on how many kids I have!), so I don't feel too bad about the initial investment costs. I'll tell you what I look for in a company:


A return policy. Most places offer refunds on unwashed/unused items minus a restocking fee.
Reasonable shipping rates... even better are flat shipping rates.
The following products are essential in my cloth diaper collection and so the company must sell these:
Stacinator So Simple! covers... nothing compares to this for nighttime diapering... it won't leave any red marks around the legs and I've never had a leaking problem.
Prorap covers... these are a standard for daytime diapering. They have leg gussets to hold everything in and they are long-lasting and affordable.
Bummis whisper pants... these are the covers I switch to when baby gets a little older, fatter, or wets himself more frequently. They are cheap, trim and work better than ANYTHING else. They only lose points on the cute factor but I can deal with that.
Kissaluvs terry cloth wipes... unbeatable.
Bummis diaper pail liner... I've never had the need to try anything else.
Snappis... who uses pins anymore?
Chinese pre-folds... the basic and most efficient way to cloth diaper your child.
Hemparoos doublers. I've made my own doublers before but they can be bulky. These babies are TRIM and ABSORBANT so we use them exclusively for nighttimes.
Some kind of swim diaper... I like Kushies but I think they all work pretty well from what I understand.
There are other products I've tried, but nothing worth raving about. I have a variety of covers I use, especially in the earlier months but the ones I listed above are my favorites. Okay I promise to stay away from this topic for a long time (though Sia or Hope might jump in with their reviews... who knows?!). I just had to get that out of my system. I found another rare company that sells ALL of the above products, so I'll be patronizing them frequently:
We'll discuss some more pertinent things to our faith in due time; I promise.
-Ellie
Labels: useful ideas
one of us :: 10:25 AM :: 0 Comments

---------------oOo---------------
St. James the Apostle
Today is the feast day of
James the Greater
(one of the "sons of thunder" along with brother Saint John, who became the provider to the Mother of Jesus), who I just learned was only so called because he became an apostle before James the Less (Matthew's brother) and possibly because he was taller than this James too. There are many interesting tidbits about this saint worth looking into
here
. Among other things, St. James is the patron of arthiritis sufferers, blacksmiths, druggists, equestrians, horsemen, laborers, soldiers and veterinarians.
O Glorious Saint James, because of your fervor and generosity Jesus chose you to witness his glory on the Mount and his agony in the Garden. Obtain for us strength and consolation in the unending struggles of this life. Help us to follow Christ constantly and generously, to be victors over all our difficulties, and to receive the crown of glory in heaven. Amen.

Labels: feastdays
one of us :: 9:21 AM :: 0 Comments

---------------oOo---------------
Monday, July 24, 2006
I can't resist
I know not everyone out there is into cloth diapering, but I just discovered an excellent new company and I have to share my enthusiasm.

www.diaperjunction.com will be going on our cloth diapering page as soon as I get a chance to update it.

I've been searching and searching for a cloth diapering company that has ALL the products I like in one place. Often I find one thing here and another there and it's a pain to go from place to place to buy diapering supplies. Well, diaper junction is pretty close to tops! Since my youngest is a hefty fellow, he's grown out of all big brother's hand-me-down diaper covers and I am left to buy the large/toddler sizes that look like they're made for 5 year olds.

Anyway, I placed an order on Diaper Junction (based out of NC) just on Friday evening and it's already here on the other side of the nation! I am very impressed. (If you are curious, I bought a new night-time cover and a couple more of the inexpensive and highly effective Bummi Whisper Pants that work great on my tubby-legged little guy.

Anyway, rave reviews from me for diaperjunction.com! That's all... carry on... carry on.



-Ellie

Labels: useful ideas



one of us :: 6:03 PM :: 0 Comments

---------------oOo---------------
Making Do on Mondays: Worthy Websites

Hello, this week is my cop-out week. The weather here on Whidbey Island has been monstrously high and for some reason (maybe because I'm 8 months pregnant?) I've not been coping well in these temperatures. So I'm tired, irritable, unmotivated and not thinking clearly. Wow, what a cheery start to the post huh? Anyway, I would like to share some really great websites with you that can help with many facets of organizing your home and budget:




The ultimate recipe database! This site is fantastic as you can search for recipes by ingredient, type, occasion etc. All the recipes are rated by REAL people in the REAL world who do a great service to us by adding their own little tips and experiences or changes they've made to the original recipe. Whenever I want a REALLY good recipe of something in particular, I go here and read through different ratings and variations to see what works. It's not failed me yet!

Miss Maggie offers an excellent resource for people who want home cooked meals and are feeling the pinch of rising grocery costs and tight incomes. I absolutely love this site because it offers so many great tips about managing meal plans and saving money... and all with a Christian perspective! I'm still new to it, but so far, I'm finding that it is definitely worth my time.

The Fly Lady is quite famous these days... is your kitchen sink shiny? This site is dedicated to getting and keeping your home clean by implementing regimented, but simple habits. Some people are hooked to her. I am not personally because I couldn't field all the e-mails at once. BUT, thanks to this site, I have developed certain cleaning habits that are a consistent part of my day like making my bed, getting fully dressed in the morning, and doing 15 minute emergency pick-up drills. So it's worth it to at least give it a click and see if you can apply any of her tips to your life.

Suze Orman has authored several great books regarding finances and making the most of what you have, while dealing what you don't. Her tips on getting out of debt and learning about long term savings plans are incredibly user-friendly and helpful. Some may not like her frank style of confronting the issues (or maybe we are all a little sensitive to being told we are irresponsibly out of control with our money) but there is much truth to be gleaned from her words.

Finally, to balance out the secular link about money, I want you to know about this wonderful book by Thomas Dubay. I'm in the middle of the book right now and it is quite inspiring. the whole idea is how are we called to live in the evangelical poverty that Christ calls us to? Especially for married couples who NEED to be concerned with "things of this world" for their children's sake, this book offers a great perspective on how to apply the "spirit of poverty" to our lives... it answers many questions in the process and convicts Christians on certain premises that may mean a lifestyle adjustment for many of us.

-Ellie writes longing for a deep, cold rain in Oak Harbor, WA




Labels: useful ideas
one of us :: 9:00 AM :: 1 Comments

---------------oOo---------------
Sunday, July 23, 2006
St. Bridget of Sweden
Today is the feast day of one of our favorite saints.
St. Bridget of Sweden
,

under whose patronage we dedicated this blog. St. Bridget was a wife, mother of eight children, a visionary and an incredibly ascetic pillar of strength in her widowhood. One of the most powerful devotions is to pray her meditations on Christ's passion and death. They can be found here. I would also like to ask for prayers for the parish of St. Birgitta's (the Latin form of her name). This church is the last, recognized parish in the entire state of Oregon that offers a regular Tridentine Latin Mass. The small church is in need of willing priests to offer the Latin Mass and is in danger of being sold or at least the traditional Mass being dropped. Thank you.
"
Let everyone who has the grace of intelligence fear that, because of it, he will be judged more heavily if he is negligent.
"
-St. Bridget
Labels: feastdays
one of us :: 7:34 PM :: 0 Comments

---------------oOo---------------
Saturday, July 22, 2006
Friday Coffeehouse on Saturday
Hello, dear readers! I am indeed, as Ellie has told you, back in Ohio with my family, "romping around the farm." I have many subjects I'd like to write about in my Friday coffeehouse but for this week (a day late, of course) I just wanted to share with you my joy in one of the best cups of coffee I've ever had! First of all, making coffee is a highlight in my day. I like to, when I don't have a French press, brew it through a 1-cup coffee filter good and strong. and have it with half and half. Recently I was visiting some good family friends and went to make myself a cup of coffee. The mother in this household, (A huge mentor in my life who I will tell you more about in future posts) treated me to some special coffee beans. After I had brewed the coffee, she got out some FRESH, whole, unpasturized rich cream fresh from their cow that morning....There is nothing like frsh, pure heavy cream in good strong coffee.

Next week I won't bore you with more coffee talk. I hope to talk about some books and news perhaps... in the meantime, thanks to everyone for all the wonderful comments on therecent posts. I have been very inspired by our readers and feel like we three are getting more out of this than we had ever expected! Thanks to
everyone!

~Sia writes from her old home on Hanover Ridge in Ohio

Labels: Reflections



one of us :: 11:56 AM :: 0 Comments

---------------oOo---------------
St. Mary Magdalene: "The Penitent"
It's a shame that in recent years, much attention has been given to
St. Mary Magd
alene
in the supposed role as Jesus' lover. While I don't even need to dignify such accusations with a defense here (others have articulated it much better anyway)... it's important to realize that in many ways, the Magdalene's role was similar to that of Our Blessed Mother. Little is said about her in the Bible (it's not even certain like so many assume that she was a young, gorgeous, prostitute). Her life's purpose wasn't to draw attention to herself but to point us toward the Living Christ.
Labels: feastdays
one of us :: 11:08 AM :: 1 Comments

---------------oOo---------------
Friday, July 21, 2006
A Mother's Dark Night of the Soul

I write as a mother. A 29 year-old mother of 6 children, 4 of which I have the honor of raising, 2 of which I have the honor of their intercession from heaven. I write as a mother who has sacrificed material comfort at times instead of sacrificing the honor of raising and growing my family. A mother who has taken on the beautiful burden of educating my children. A convert of 6 years, smitten by the intimacy of the Son of God through the Holy Eucharist. A wife of 9 years, married just at the end of my teenage years growing up together, growing in mature love. A mother who seeks the truth and strives to live it, sometimes at a great expense to my pride.

I write as a mother with a past life. Another life I led before I even knew the man I married. A life of a sad, sad childhood, growing into adolescence, the tender years of becoming a woman, living what I learned, to my destruction. Now, many years later, haunted by this other life, I would ask the Lord to heal me, begging to be pure, clothed in white, erasing the sin from my memory. The healing came. It came through a severe depression I experienced a year ago shortly after giving birth to my daughter. This dark place, where I felt helpless, sleepless, forcing myself to eat for lack of appetite, where terrifying thoughts invaded my mind, chest aching from constant anxiety attacks. This dark place where I kissed the bloody feet of the crucified Lord with The Pure and Holy Mother as my only comfort. This dark place labeled post-partum depression: this dark place is where I found the healing I've longed for all along.

I found many companions in this place, a surprising amount of mothers, suffering as well in varying degrees. Women I know and respect, suffering silently who only shared with me their depression because I was open about my own. Most encouraged medication but I decided, while open to it, I would do that only as a last resort. Along with spiritual counsel from a priest, I sought help from a nutritionist who had me take some natural supplements and make some dietary changes (that lessened much of the problem) along with doing some Chinese medicine. But the best help possible, something I've always been too proud to "stoop down" and receive, was counseling from a psycologist. While the supplements and herbs and purity in my diet gently regulated my body, the psychologist taught me the very simple way of coping with the anxiety attacks, the irrational fears which plagued me and the intruding thoughts that made me feel I was going crazy.

I learned so much from that knowledgeable woman. I learned to not be afraid of anxiety and that if I let the attack happen it would actually go away. I learned to enter in to the intrusive thoughts that attacked my mind, letting the thoughts come no matter how scary and severe. My spiritual advisor, Fr. Phillip, told me to do this while holding the hand of the Blessed Mother and in the other hand, Our Lord. If I let this happen the thoughts actually started to go away. I had developed fears of many things which, though silly sounding, I will share so my dear sisters who suffer these will know they're not alone: elevators, driving, car washes, dentists, car garages and tight, crowded spaces. I found that thinking about these and the anticipation are more scary than the actual going through. Though I've been healed of all these fears (e.g. I'll go in an elevator, no problem) they still pop up here and there but I'm not afraid anymore and I deal with them as they come.

My past is part of me that won't go away and I've accepted that. I recently wrote a song about it and here's the general idea of the song: My past is like a book on my shelf. One I don't dare open up and face and it has sat there for years. Well, I finally open it up read the tragedy. I mourn over it and see how God was there all along. I close it up and put it back on my shelf, accepting as part of me all the details~ and I turn around and walk on. Depression is very real and very scary. The Merciful God, who causes ALL things to work together for good, used this for my healing, for the good of my soul, my family and my marriage, though at the time I couldn't see this. God felt so far from me. In faith I held tight to the promise that He would never leave me nor forsake me. Though all my senses felt deprived of His compassion, He really was so near, tenderly loving me, His beloved daughter. In faith I said "Lord, I believe. Help my unbelief."

We women, as mothers need each other, and I firmly believe we are not meant to do it alone. My next post will be my thoughts on this. Dear mothers who suffer this darkness, I write all this so you know you're not alone even though it feels like it. I write this so all will have understanding and compassion, for in that dark place words fail to describe what the spirit groans.

-Kerensa writes from Annapolis, MD

Labels: Reflections



one of us :: 1:09 PM :: 1 Comments

---------------oOo---------------
Feast of St. Laurence of Brindisi
"God is love, and all his operations proceed from love. Once he wills to manifest that goodness by sharing his love outside himself, then the Incarnation becomes the supreme manifestation of his goodness and love and glory. So, Christ was intended before all other creatures and for his own sake. For him all things were created and to him all things must be subject, and God loves all creatures in and because of Christ. Christ is the first-born of every creature, and the whole of humanity as well as the created world finds its foundation and meaning in him. Moreover, this would have been the case even if Adam had not sinned."
-St. Laurence of Brindisi
Labels: feastdays
one of us :: 9:59 AM :: 0 Comments

---------------oOo---------------
Thursday, July 20, 2006
What My 3-Year Old Taught Me
Bustling about the kitchen as usual, I was pleasantly surprised when Xavier came in from outside and said out of the blue: "Mom, I want to give some of my toys to the poor kids." (A couple times a year we go through the toys and weed out what's accumulated over time... I've always told him it's a nice and wonderful thing for us to give some of our toys away to the little kids who don't have any-- via St. Vincent de Paul's or another such organization.) I was happy to agree of course and told him he could pick out any toys he wanted to give away... thinking he would do the usual routine of finding the broken, old, or unappealing toys and "sacrifice" those. So I gave him a brown paper bag and let him go into his room to do the business alone.

When he came out, I was very taken aback by the toys he had chosen. Yes, there were the small, insignificant, miscellaneous things that didn't mean much to him, but in addition there were some of his nice toys too... some of MY favorites. I was hesitant at first and tried pulling out one of the beautiful hand puppets he had put in there: "Buddy, this goes to your other puppets." He replies, "No Mom, I have a lot of them." And again, I balked at the little wooden Noah's Ark boat he had in the bag. But he was certain: "I've played lots with it, the poor kids will like it now." There were some of his favorite cars and figurines at the bottom of the bag too. I explained to him that once we give the toys away, he can't have them back. He said he knew... and that he gets toys "all the time" anyway.

Mercy me, was my heart in the wrong place! When I go through MY things to donate, I always look for the stuff I don't use anymore or the ugly ill-fitting, or stained clothes. When have I ever really sacrificed something that I liked? I'm afraid not often. And what is a gift if it's nothing more than the garbage we don't want anymore? Not much of a gift.

Without another word, I put the bag in the van and we took it to the local thrift store where he insisted on giving it the worker himself. I am so proud of that little one. May he continue to teach me love and generosity in their truest forms.



-Ellie: Oak Harbor, WA

Labels: Reflections



one of us :: 12:08 PM :: 0 Comments

---------------oOo---------------
Tuesday, July 18, 2006
Pray for us Joshua...

On July 8th, something so tragic happened that it's taken a long time before I could post on it. Regina, the woman who designed the template for this blog accidently ran over her four-year-old boy in a church parking lot. The way this has gripped me and hit so close to home has been monstrous. I can not imagine, with any of my faculties, what kinds of thoughts must be going through this family's head.

Here is Joshua Michael Schmiedicke's eulogy given by his mother. The grace with which she is coping with his death is very humbling and inspiring. Let's pray for their whole family. Also, the family is trying to replace the vehicle that killed this little boy. If anyone would like to help in this regard they can send a donation made out to Mike Schmiedicke or Andrew & Regina Schmiedicke to this address:

Mike Schmiedicke
PO BOX 1963
Front Royal VA 22630

Labels: our website, Reflections



one of us :: 10:20 PM :: 3 Comments

---------------oOo---------------
A Waste of Space
My automatic dishwasher is rarely used. Well, first of all it's old and crustified and gets soap granules stuck all over the dishes... yes even when I use Cascade. My husband tells me we need to get a new one. Well, the list of things we need for this house is a mile long but I'll tell you why that one is not on the top of MY list! I'd rather have more cupboards.

- We have some anodized aluminum tumblers that we use often... they are a great alternative to plastic for my clumsy kids... while still giving that fresh cold sweat that glass will give to an icy beverage. But we can't put them in the dishwasher because the harsh chemicals will cause the anodization to break down. We also have some non-stick cookware which as all of you know, can't be dishwashed either... and then there's the cast iron skillets and the giant crock pot that won't fit...

So usually I'm left doing at least SOME dishes by hand. Plus, most dishwashers require you to pre-wash or at least rinse off the dishes before you even load it up! Well, if I'm going to pre-wash half my dishes and then wash the other half by hand, it doesn't make a lot of sense to me to be "saving time and energy" by using the old machine anyway!

Doing dishes is almost therapeutic anyway (Clearing the table, wiping up the messes on the table and floor, putting away food... that's another story that stays the same regardless of using the machine or not). Getting a hot, sudsy sink full of water and doing the dishes just 'feels' good I guess. I wonder if that's oxymoronic that a mother finds peace in doing work? Hmmm... maybe I'm just wising up to the fact that my therapy will never be afforded at the nail salon or massage parlor. Regardless, at least I've embraced some aspect of my domestic life, right?! (I've yet to find peace in changing a blown out diaper.)


At any rate, I've found it easier to do all my dishes by hand, bit by bit throughout the day as needed, rather than stockpiling until I'm energy shot after dinner. The only thing I like my dishwasher for is when I find sippy cups under a kid's bed that has long since molded whatever's been inside of it... or when I discover last month's leftover rigatoni stuffed way in the back of my fridge emitting nuclear gasses from some tupperware... THEN I am more than happy to run a load to sterilize my plastic.

Dear husband says we have to get one because it's a selling point when we move out of here. Sure I suppose... but I don't plan on using it much in the meantime. I'm quite content to do dishes the old way, which is not only more efficient in my case... but also allows me a moment of reflection in allowing the "Joy" to wash away all my dirt. Okay, that was my poor attempt to be poetic and witty but you get what I mean.



-Ellie, Oak Harbor

Labels: Reflections



one of us :: 9:18 PM :: 1 Comments

---------------oOo---------------
Monday, July 17, 2006
Making Do on Mondays: Mass Cooperation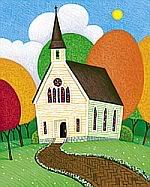 Some of us have the privilige of attending daily Mass with our children; others are absolutely daunted by the task (which usually feels more like a battle of wills than a channel for sanctifying grace). Even if you don't get to make it during the week, here are some collected ideas from me as well as from other mothers to ease the difficulty of getting children to behave in church, where at least you'll be on Sundays... some may be old news to you or you may have had experience with other tips, if that's the case please share your own ideas!

First, I think it's important to dress your children for church. Even daily Mass. Children who have a special set of clothes different from their playclothes learn that church is something separate from play. A collared shirt or a skirt may help signify that special behavior is expected of them.
Secondly, I think it's helpful right outside of the church doors to get down to eye level with your kids and explain to them softly and seriously that you are entering the home of Jesus and let them know that you expect them to be quiet during Mass... that they are welcome to play AFTER church.
If you have a choice of orthodox Mass options, the earlier the service is usually the better for families. Earlier liturgies tend to be simpler, quicker and less crowded. Plus they won't interfere with nap times and you may get the added bonus of having drowsy kids in church rather than wired kids.
Seating. Some parents need a quick escape route, so they sit in the back or near a side exit. Other parents may find it helpful to sit right up front where kids are watching what's taking place on the altar rather than the backs of peoples' heads. This could depend on your priest too. It's really helpful when your priest makes a point of how welcome children are at the liturgy... that their baby babble only adds to the praises of God. If unfortunately, the priest seems a little put off by kids, I'd stay near an easy exit.
Our rules for the under 3 age is that baby babble is fine during Mass. There's not much (short of duct tape) that you can do to prevent this. "Let the little children come to me," says our Savior. We need to remember that despite the stern looks of disapproval you may get from some people, children are an essential part of God's family too. Plus, how can they be expected to behave in church without being welcome there to learn?! Anyway, if a young one starts excessively whining (or falls off the pew, or stabs himself with the little pencils, etc.) or crying, then we'll take him out. Oftentimes, just standing up in the back is helpful for little ones, other times, they need to avoid the meltdown by being completely removed to the outside.
If you are in the midst of disciplining a crier, do NOT let him/her run around outside (or even in the cry room)... this is basically rewarding their behavior; I learned this the hard way once my guys started manipulating the cry factor just so they could play around outside. So if you have to take them out or stand in the back, it's best to hold them. They'll soon learn that a little freedom in the pew is better than being confined in a parent's arms outside.
While in the pew, I know many parents have different ideals on what to expect. My oldest son is not quite four and we are just now starting to enforce him sitting still and facing forward etc. Until that point, there's no use reasoning with toddlers. We let them have full reign of the pew (at least until another kneeling church-goer physically blocked their way). They are welcome to sit on the kneelers or crawl on the pews or stare at the people behind us etc. It's just what's worked for us to keep the peace. I know some other families make sure that everyone under age two is held in their arms but this wasn't always practical for our lives (pregnant bellies and deployed husbands can keep one on her toes).
Here is a hotly debated topic. Should kids be allowed food or sippy cups in church? I am not going to give definitive answers since everyone needs to find what works best for them but I'm always willing to give my opinion! If you DO give snacks to your kids in church, please make sure they are not in crinkly, distracting wrappers or too messy. We never allowed food in church as a general rule, but with our firstborn, he was allowed his sippy cup of milk up until age two. This was partially because we went to such an early Mass that there was no time to feed him prior to church... so the milk held him over. Now, we have a leisurely 10:30 we go to and have no excuse for food or drink in church. I keep a very small water bottle in my "kid bag" just in case that becomes necessary but we rarely use it. They know church isn't time for snacks. It never sit well with me ever since I attended a Mass in Cali once where the whole family was eating NACHOS in the kid's cry room!!! Oy. There's a time and place people... It's nice if kids know they get doughnuts (err... I mean, whole grain, organic bagels... yeah) or something (dependent on good behavior of course) after Mass.
Toys. We have a little "Mass kit" bag just for church. In it are two or three religious kid books; we love

the series by Fr. Lovas

ik

. We also have a little soft nativity scene, or a small, easy religious puzzle. Sometimes sheets of paper and religious stickers or a couple crayons. Lacing boards... anything quiet and related to God. It's important to switch out what's in the Mass bag every now and then to keep things novel.
During the Mass, it's helpful to whisper quietly to your fussy kids... explain the pictures or statues, discuss what the priest is doing on the altar, especially calling attention to the Consecration.
And bring your kids to Communion with you! Sometimes I see pre-Communicants sitting in the pew waiting for mom and dad to get back. But it's a great opportunity for them to get up and have an apex of the Mass, plus they can receive a blessing from the priest (which is partially why we always make sure to get in a priest's line, rather than that of an extraordinary minister)... and I know at least my family can use all the blessings it can get!
Finally always be sure to give positive reinforcement for good behavior. Sometimes I'll whisper to Xavier... "You are being such a good boy for Jesus right now; He is very proud of you." And I really don't think it hurts to "reward" them after Mass. I don't see it as bribery... I see it as adding a special treat to a special day.
When your kids are overly naughty, try not to let it get you down. This too shall pass. I suspect it will get easier with more children: the littlest ones will have the example of the older ones to follow (older ones can be reasoned with)... they'll be like ducks in a row. It's hard to focus on the fact that despite the desperation or frustration you are feeling now, you are being filled with graces just by being in the Presence of God. I heard of one mom who would go to an early Mass, and if the kids behaved poorly, she'd tell them that since they obviously needed more practice behaving, they'd "get" to sit through the later Mass too!!! I'm sure that taught them real quick!
-Ellie
Labels: useful ideas
one of us :: 7:54 AM :: 3 Comments

---------------oOo---------------
Sunday, July 16, 2006
The Best Things in Life

There is a spot that I just discovered. It is a hidden spot (near a housing development)... A path leads to a river that is wide and shallow, perfect for playing children - even the babe. There is a little sandy beach area, lots of trees, reeds, rocks, sand, frogs; there is always a breeze, a gentle one that touches my face and makes me remember that I am a child of God. I've only been there twice, and taken my children, and we are always alone. I hope this doesn't sound too much like a John Denver song but I have been thinking about that spot a lot lately. I've been going through one of those parenting phases where I have been pretty liberal with movies and entertainment and things that keep my children quiet while I can do my chores or just have some peace. And I know we all probably go through phases of being more or less strict about those important things like nutrition, prayers, monitoring computer or tv time, etc. and that is all normal and fine and well, but when I am at that spot I am reminded of the best things in life. While at home I am constantly picking up crap- (forgive me for being harsh, I know that our material goods are a gift from God- but I feel like that sometimes when I am picking up MANMADE STUFF all day and trying to put it back into it's rightful place, or change it's rightful place and then forget where it's new rightful place is)- when I take my children to this spot we are surrounded by GODMADE STUFF - which I don't have to pick up, and delights them more than anything we could ever invent. They are usually quiet there, the yelling and screaming that echoes through the hallway of my house is somehow mute at this little refuge and I like to think that they too, are in awe of life in their own little way, and connecting with their Father-God in their own little way as the breeze touches their faces, the sun sparkles on the water rippling by, the sparrows dip and dive in the bright blue sky around us. The movie they've been watching is 8 different episodes of Dora the Explorer- we got it from blockbuster. She talks in high pitched tones and repeats words so many times that it is getting to be like that toy that your extended family member bought you that you want to throw out the window from the monotony of the electronic tunes. Not to rag on her too much I do like the theme song and the Spanish stuff, but the primary colors and perfectly shaped trees in the world of Dora, and I suppose all animation, although not bad, are just not real. I like to think that God made many things, simple things like those rolly polly bugs or shells or even sticks, for the main purpose of delighting children. I guess what I am pondering these days is that the best things in life are the real things in life- And most of the time, the best things in life are free.

Hope writes from Fillmore, CA

Labels: Reflections



one of us :: 9:32 PM :: 2 Comments

---------------oOo---------------
Saturday, July 15, 2006
Feast of St. Bonaventure

"Christ is both the way and the door. Christ is the staircase and the vehicle, like the "throne of mercy over the Ark of the Covenant," and "the mystery hidden from the ages." A man should turn his full attention to this throne of mercy, and should gaze at him hanging on the cross, full of faith, hope, and charity, devoted, full of wonder and joy, marked by gratitude, and open to praise and jubilation. Then such a man will make with Christ a "pasch," that is, a passing-over. Through the branches of the cross he will pass over the Red Sea, leaving Egypt and entering the desert. There he will taste the hidden manna, and rest with Christ in the sepulcher, as if he were dead to things outside. He will experience, as much as is possible for one who is still living, what was promised to the thief who hung beside Christ: "Today you will be with me in paradise." "

from

Journey of the Mind to God

by

Saint Bonaventure

Labels: feastdays



one of us :: 4:22 PM :: 0 Comments

---------------oOo---------------
Friday, July 14, 2006
Friday Coffeehouse

Sia is off gallivanting on her family's giant farm in Ohio I suppose, and while I wish her the best of times, I'm left pretending to be the coffee expert for the day. So here goes nothing:

I like sweet, cold coffee. Iced white mochas are my favorite, but I always seem to need something grainy to "soak it up" with in my stomach. I never understood how people can enjoy really sweet beverages with really sweet foods (my husband would drink Coke with his pancakes, blah!) since it ruins the effects of both. I enjoy a sweet treat with tea... and a more plain treat with coffee, something like a bagel or basic scone or muffin. So for this week's coffeehouse post, I'll share two of my favorite recipes that compliment coffee (and tea) well... neither is TOO sweet.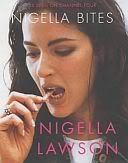 This first one is from one of my favorite cookbooks by Nigella Lawson. Almost anything this woman suggests can be assured to be delicious. I have never read a cookbook from front to back like I have hers. Not only is it full of amazing recipes, she narrates each selection with her personal tips and experiences:

Orange Breakfast Muffins


6 TBS unsalted butter




1 2/3 cups self-rising flour




2 TBS ground almonds




1/2 t. baking soda




1 t. baking powder




1/4 cup sugar




zest of 1 orange




1/3 cup plus 1 TBS freshly squeezed orange juice




1/3 cup plus 1 TBS whole milk




1 egg





Preheat oven to 400. Melt the butter and set aside. Combine flour, ground almonds, baking soda, baking powder, sugar and orange zest in a large bowl. Measure the OJ and milk into a pitcher and whisk in the egg and then the cooled, melted butter. Now pour this into the dry ingredients, mixing with a fork as you go. The lumpier the batter the lighter the muffin, so barely combine it, don't overwork it. Spoon the mixture equally into 12 paper-cup lined muffin cups and cook for 20 minutes. Let cool slightly (not completely) on a wire rack before devouring.





Nigella suggests eating these with unsalted butter, jam or honey.




Best Banana Bread

I think what sets this banana bread apart from others is the sour cream... sometimes I'll throw in semi-sweet chocolate chips just for fun. It is enough to make two mid-size loafs of bread. But I only make one loaf and then use the rest of the batter for muffins. You can cook them at the same time, just take out the muffins about 10 minutes sooner than the bread... you have to kind of watch it.
2 1/2 cups flour
1 t. baking powder
1 t. baking soda
1/2 t. salt
2/3 cup butter
1 1/3 cups sugar
2 eggs
1 1/2 cups mashed banana (usually about 4 or so mid-sized bananas)
1/2 cup sour cream (don't you dare use "light")
1 cup chopped nuts, and/or chocolate chips optional
Preheat oven to 350. Grease pan(s) and flour the bottom of the pan. Sift together flour, baking powder, baking soda, and salt. Set aside. Cream the butter and sugar until light. Add the eggs, mixing well after each. Add mashed banana. Add flour mixture in thirds, alternating with sour cream, ending with the flour. Blend quickly but thoroughly. Stir in the nuts. Pour into prepared pans and bake 45 minutes or until center tests done.
-Ellie: Oak Harbor, WA
Labels: yummies
one of us :: 10:01 AM :: 2 Comments

---------------oOo---------------
Blessed Kateri Tekakwitha
Happy Feast Day!
Blessed Kateri
is the first Native American to be up for canonization. She endured extreme persecution for her Christian faith and serves as a great model for people everywhere to care a bit more about the environment... something a lot of Christians automatically (though incorrectly) marry to the liberal ideology. Kateri is the patron saint of ecologists; environmentalism; exiles; loss of parents; people ridiculed for their piety.
Here is a prayer for her canonization:
O God who, among the many marvels of Your Grace in the New World, did cause to blossom on the banks of the Mohawk and of the Saint Lawrence, the pure and tender Lily, Kateri Tekakwitha, grant we beseech You, the favor we beg through her intercession; that this Young Lover of Jesus and of His Cross may soon be counted among her Saints by Holy Mother Church, and that our hearts may be enkindled with a stronger desire to imitate her innocence and faith. Through the same Christ our Lord. Amen.


Labels: feastdays
one of us :: 9:33 AM :: 0 Comments

---------------oOo---------------
Thursday, July 13, 2006
Question of the Week

Happy Feast Day of

St. Henry

, who shares the name of Hope's middle child!

I apologize again for the late posting... my internet is down hence the lack of postings from my end. But alas, here is the question for you. Last week we discussed spiritual books. How about reading for pleasure? What is your favorite novel and why? I just read a great one and I'll post it in the comments section.

Labels: Questions



one of us :: 8:45 AM :: 6 Comments

---------------oOo---------------
Tuesday, July 11, 2006
A mother needs your help

A reader wrote in and is asking for words of wisdom from all you other moms out there, I hope you can help! And I want to commend this mother for reaching out and looking for help; I know there must be many of us who can relate to her feelings. Please add your comments at the bottom.

I am a mother of 4 children, boy: 5, girl: 4, boy: 2, girl: 10 months. We are expecting our 5th child too. I have home schooled our son for Kindergarten this past year. Since we just found out of our 5th child, we are reevaluating our decision, not sure if we can really manage it. I am in hopes that you moms may know what it is like to mother a number of kids so close together. I am about to turn 30 yrs. old and may have a lot of years of fertility ahead! We have taken NFP classes and signed up for another set but then we found out about baby #5 on his/her way. We are practicing Catholics in a secular extended family and neighborhood. The persecution coming from the ones we love the dearest hurts the most and is very tiring. We do have some friends that are practicing also but they do not have their children so close together and I feel that they really do not understand how overwhelming it is. I have a spiritual director and even have begun going to a psychologist with a diagnosis of "overwhelmed mom with young kids". The older ladies and older men and mass always say "enjoy them while they are young." I want to so bad but feel so much the opposite. I want to be that joyful mom that I was and just need someone/extra ear to hear me out and give me advice that I can use. It is certainly trying and easy to be disappointed. Many people think that if you just obey Church teaching and pray there won't be any troubles, but that of course is not the case. Any help is appreciated. Thank you.

Labels: Reflections



one of us :: 8:42 AM :: 11 Comments

---------------oOo---------------
St. Benedict
Today is

St. Benedict's

feast day, the founder of Western Monasticism. While not every lifestyle can adhere strictly to his Rule, I believe everyone can apply certain principles to their own lives. In fact the

National Catholic Register

(a highly recommended paper) included in their most recent edition how families can apply parts of the Rule in their homes.

One of my favorite quotes is from him: "Let nothing be preferred to the work of God." That pretty much sums it up.


Tomie de Paola illustrated a great kids book about this saint and his twin sister;it's written by Kathleen Norris:

The Holy Twins

.

Today we should pray especially for our Holy Father who chose this saint as his namesake. St. Benedict's patronage includes: against nettle rash; against poison; against witchcraft; agricultural workers; cavers; civil engineers; coppersmiths; dying people; erysipelas; Europe; farm workers; farmers; fever; gall stones; Heerdt, Germany; inflammatory diseases; Italian architects; kidney disease; monks; nettle rash; Norcia, Italy; people in religious orders; poison; schoolchildren; servants who have broken their master's belongings; speliologists; spelunkers; temptations; and witchcraft.
Labels: feastdays
one of us :: 8:25 AM :: 0 Comments

---------------oOo---------------
Monday, July 10, 2006
From the minivan of another mom

This post is brought to you courtesy of Stacey Chik, who has some interesting thoughts to share with us: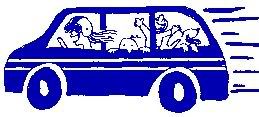 You know, being a mom is a funny thing. With both of my kids' birthdays swiftly approaching (Timmy will be 2 in 11 days and Emma will be 3 in 14 days), I have been reflecting on the ways my perspectives have changed as a mom. When I was single, and then even while pregnant with my oldest, I was very sure of some of the things I would and would not do as a parent. I was adamant that children be taught 1st time obedience and that they be trained up in the Lord under the authority of God rightly given to us as their earthly parents. You know, it is our job to be their parents and not their friends. Back then I may have looked at other parents and judged them for being too lenient or allowing the child to "run the show" or whatever. Ahhh, little did I know. What is that they say about walking a mile in another man's shoes? I think of it as driving a mile in another mom's minivan.

Now that I am a well-seasoned mom of a 2 and 3 year old, I just laugh at myself and am very cautious to judge other moms. I still believe all of what I said above about parenting and for the most part my husband and I pray for the grace to be consistent and fair while being models of God the father's unconditional love, mercy, justice, and authority. But, funny thing about parenting, it just doesn't happen in a vacuum.
There are all kinds of variables that can affect any given scenario that we have absolutely no control over. It is all of the variables that we just do not see when we encounter others in public parenting fiascos. We just have no idea what the day, days or weeks have been like for that family leading up to the one glimpse we have of their interaction.

In the past 24 hours I myself have been the central figure in several parenting fiascos. (Note, I define a parenting fiasco as a situation in which one chooses to go against 'rule' for the sake of peace, or choosing one's battles, or out of momentary desperation to accomplish a goal.) These fiascos have shown me that I am the mom I used to judge. I am the:

1. CANDY BRIBER Yesterday I took the beautifully bathed and blow-dryed children to Picture People to have their portraits taken. "Don't let their model-like appearances fool you," I told the photographer, "They are a handful." The little rascals were not the most cooperative of children. (Imagine little barefooted hooligans RUNNING away from the photographer, STOMPING their feet at her, and SULKING in a corner, REFUSING to get their pictures taken.) So, while I am a perpetrator of obedience and we teach it daily, I was desperate. So, I made a quick, well-thought out decision to bribe my children with candy and the promise (albeit, empty) of McDonalds. So, there I am shoveling my kids with smarties (left-over from Halloween) and begging them to smile, or for goodness sakes at least sit still!

2. PUSHOVER When we arrived home, our babysitter was waiting for us. On the way in the house Timmy had 3 sticks he wanted to bring in the house. Now,
typically, we have a rule of no sticks in the house. I told him once that he had to leave them outside and then I saw that face: the face that tells me that he is about to meltdown into a screaming, flailing blob that only moderately resembles my handsome charming boy. What would the babysitter think? So, I quickly amended my suggestion and compromised with Timmy. "You can only bring one of these sticks in the house, son." He thinks I am still in control and yet a meltdown is avoided.

3. ESCAPEE My babysitter was there for the afternoon so that I could go walking with a girlfriend. I am training for a half-marathon so I really needed to get a 7 mile walk in. Anyways, the drive to and from the lake where we walked took longer than expected and I am sure the babysitter was convinced I was never coming back. And in reality, part of me didn't want to come back. Now, I honestly believe in what I am doing as a stay-at-home mom and that it is the best for me and the kids. I also think that some moms get overly selfish and are gone too much. That being said, I really needed this break. The friend I walked with is
single, has her own beautiful apartment and can come and go as she pleases. I am so envious of that!!! I had escaped for the afternoon and admittedly enjoyed every moment of it.

4. PUSHOVER PART TWO I have always had the philosophy that when it comes to sleeping children, they should do it on their own. I think that after three months of age, they should be in their own bed in their own rooms and be sleeping through the night. That is what has worked best for our family and we have had to learn to be firm about it. It works. People have always found it remarkable that we can lay our kids down when they are wide-awake and we won't hear from them again until morning. Well, that firm handed approach works really well when the parent is alert and clear-headed. Unfortunately, last night Em woke up at 3 am screaming for us. We both went in and helped her to fall back asleep by making our bed on the floor (she joined us, and didn't fall asleep for hours). So there I am, sore after a long workout the day before, and sleeping on my daughter's floor. Ugh. So much for that firm-handed approach.

I share these fiascos as just a few of hundreds of examples that have taught me to not judge other parents. I would not want someone to judge me for bribing my children with candy, or sleeping on my daughter's floor. These are isolated incidents that will hopefully teach our children about the mercy of God and how just like us, He meets us where we are at... where we need it most. Sure the rules of our home don't really call for parents sleeping on kid's floors but it what what she needed most at that moment. It was the way that we could speak her love language and help her to tangibly experience the love of God the Father. After all, that is exactly what these moments have shown me.

Labels: Reflections



one of us :: 1:34 PM :: 1 Comments

---------------oOo---------------
Making Do on Mondays: Didya know?!

A few random tips, absolutely unrelated to one another:
I know we have many readers in California. Did you know that in this state (check your own for their laws... California is certainly not alone) children will be given as wards of the state if both parents die and no other legal arrangements have been made. The Court will typically choose a guardian from those who step forward on behalf of the children. Certainly family members can adopt the kids but to save them the tediousness of the court process, and to ensure that their wishes are explicitly followed, families should consider getting a living will drawn up. One big misconception is that people think they need diamonds and fur coats to have a will done. Not so. At the very least, all parents should establish guardianship of their children should something tragic happen to them. It is possible to make your own will without a lawyer but there are many specific terms and procedures that need to be used and not all states recognize "holographic wills" as valid before the courts.
Did you know that you can buy pregnancy tests at the dollar store? Instead of springing for those $10 tests every time you suspect pregnancy, load up on the cheap versions of the same test. Also, you can get tested for free at your local Birth Right or other (pro-life) pregnancy center. Please don't patronize Planned Parenthood...
Finally, when was the last time you took a look at your W-2 forms? I'm not claiming to be a tax expert, since every family has its own financial nuances to consider. But GENERALLY speaking, it could be a very good idea to claim a high number of witholdings. I've seen a lot of young, well meaning families claim "Married and 0" or "Married and 1" because they really look forward to that big tax return at the beginning of the year. The silly thing is this: Why let the government earn the interest on YOUR money?! If you change your witholdings and allot that extra money into the bank before you even see the increase in your monthly income, you will have your own nice chunk of change come tax time... and you will have been earning the benefits from it as well.
Labels: useful ideas
one of us :: 9:35 AM :: 1 Comments

---------------oOo---------------
Saturday, July 08, 2006
"Give me my blessing now!"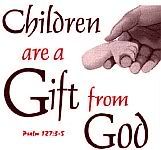 I find myself scratching my head over the concept so many people let fall easily from their lips: "Babies are blessings." A baby is a gift. It sounds innocent enough, sure. But the mindset that accompanies this trite phrase is often the furthest thing from demonstrating the truth of it. Yesterday, on an after-dinner stroll down at the park a woman commented on my two boys and asked if the one in utero was a girl. "Nope, another boy." She shook her head with a smile: "We have two girls and would love to try for a third baby, but my husband is afraid of being stuck with three girls." As if they were playing the Wheel of Fortune. Another friend of mine remarked to me a while ago that she really wanted another baby (had 2 girls and 1 boy) but only if she could be guaranteed that it was a boy.

We use the term "trying" for a baby without really stopping to think of what that implies. It takes more than a man and a woman being in the right place at the right time to create another human being. It is God who opens and closes the womb to life. I don't really blame most people... even good Christians and Catholics use this word, probably because the rest of society does and probably because it feels to awkward to say "Oh were you open to another little life being created inside of you?"

I just find it sad that while we tout the phrase "Babies are blessings" so often yet so many of us demand these "blessings" on our time frame, on our schedule, when it's convenient for the lifestyle we have in mind for ourselves. While there is something to be said for responsible parenting... something even stronger should be said about the providence of God. And this is completely thwarted when couples actively refuse God's blessings. "No, God. Not right now. Your gift isn't a good time for me. I know better than you." It seems sometimes that babies aren't viewed as "blessings" but economic burdens. And this isn't always the fault of individuals. It's part and parcel of a society that doesn't value the dignity of human life anymore. That has turned materialism and hedonism into the gods that we should bow down to.

We are all victims... but we all don't need to fall prey to such lies anymore. We are not supposed to be comfortable here. We stand in contradiction to the morals of society... isn't that beautiful about the Catholic Church?! She is the one, last major institution in the entire world that opposes the same things Christ opposes... that speaks out for the defenseless and safeguards the teachings on the beauty and gift of human life. Praise God for the blessings He has given us!

-Ellie: Oak Harbor, WA
Labels: Reflections
one of us :: 10:06 AM :: 0 Comments

---------------oOo---------------
Friday, July 07, 2006
There is hope

I just wanted to share something that I thought wouldn't happen for another 20 years or so in my life. I woke up naturally this morning! Since becoming a mother almost 4 years ago, virtually every morning is introduced by a child crawling in bed next to me or whining for me from the next room over or nestling into me to nurse or something of this sort. I used to wail to God: "Just ONCE, I'd love to wake up on my own!"

And it happened! By some miracle my two toddlers slept in until an unbelievable 8:20 and I woke to a soft sunlight filtering through my curtains and my dear husband leaning over to hug me. Amazing. I know all you other mothers can imagine the monumental feeling I must've had. So I wanted to encourage you that there is indeed hope... someday, when you least expect it God will allow you the glory of a gentle start to life's hustles and bustles. As it is now, I feel like this one peaceful morning made up for the thousands of groggy, aching, or rushed mornings behind me. Deo Gratias.

-

Ellie in Oak Harbor

Labels: Reflections



one of us :: 12:59 PM :: 2 Comments

---------------oOo---------------
Friday Coffeehouse: Good Music, "Not For Kids Only"!
It is Friday "Coffeehouse"... why not talk music? I don't have time to put down all of my favorite albums which children seem to love, but here are a few pearls worth mentioning.


Do you ever wish that you could find music for kids that is not too "cutesy" or "dumb"...i.e, not degrading to your child's dignity? Something that is fun and geared towards their age group without compromising GOOD musicianship and overall sound? When I was first pregnant with Aidan I immediately invested in 3 wonderful albums which fit exactly into the category I speak of above:

Not For Kids Only, -Jerry Garcia and David Grisman;
Little Hands, -Jonathan Edwards;
Peter, Paul and Mommy, -Peter, Paul and Mary
Everybody's Gotta Have a Place, -Dirk Shumaker

These albums have been so much fun not only for Aidan but for myself. I think that if we as adults find "kiddie" music to be unbearable and obnoxious, that it probably isn't fit to play for our children! The music on these albums is full of good musicianship, with real acoustic instruments such as banjos, guitars, whistles and fiddles... They also are full of funny songs, traditional ballads and jokes.

Others I've noticed that kids love include: Will The Circle be Unbroken, -The Nitty-Gritty Dirt Band, and any good Irish music such as the bands Altan, Solas and many many more. Bluegrass and Irish music is excellent for exposure to truly beautiful traditional tunes and for instilling in the child's ear a sense of excellent rhythm. Try out some of these albums... perhaps you will take as much joy in listening to them as your child.


~Sia writes from Vancouver, WA



Labels: Books Music Culture
one of us :: 12:00 PM :: 1 Comments

---------------oOo---------------
Thursday, July 06, 2006
Question of the week

I apologize for posting the weekly question a day late, I've been under the weather. Thanks to all who participated last week in our discussion about charity to the homeless and poor. This week's topic is not quite so heavy.
I know it is hard to find time to read as a busy mother, but weather we engage in spiritual reading or read for lesiure, it always good to get reccomendations. This week I would like to focus on the former..... What is your favorite spiritual book, saint book, or prayer book, and why?

Labels: Questions



one of us :: 8:22 AM :: 6 Comments

---------------oOo---------------
St. Maria Goretti

St. Maria Goretti, patron of youth, young women, purity, and victims of rape,
is a special Saint among young ladies, especially these days amidst our culture which is such a sexual battlefield for our young girls.

She was born in Corinaldo, Ancona, Italy, on October 16 1890. Her feast day is July 6.
I think that we all know her story... but if you don't, please click HERE.

Here is a prayer to her, found on the Maria Goretti site:


Oh Saint Maria Goretti who, strengthened by God's
grace, did not hesitate even at the age of twelve to shed your blood and sacrifice life itself to defend your virginal purity, look graciously on the unhappy human race which has strayed far from the path of eternal salvation. Teach us all, and especially youth,with what courage and romptitude we should flee for the love of Jesus anything that could offend Him or stain our souls with sin. Obtain for us from our Lord victory in temptation, comfort in the sorrows of life, and the grace which we earnestly beg of thee (here insert intention), and may we one day enjoy with thee the imperishable glory of Heaven.
Amen.
Labels: feastdays
one of us :: 12:00 AM :: 0 Comments

---------------oOo---------------
Monday, July 03, 2006
Making Do on Mondays

I am filling in for Ellie today, as she is re-uniting with her dear husband after a very long while.

I'm not as full of economical wisdom as Ellie, yet for today here a few everyday discoveries I've made lately with my toddler.

My little boy loves to pick food up with his little fingers. He is now 11 months and although he lets me feed him from a spoon still, he likes the independence of trying to feed himself-you know the age! He likes a lot of foods, but sometimes he just makes that "ick, that grosses me out" sour face when it comes to steamed, cut-up yams and sweet potatoes. Gerber brand makes some wonderful pure (unfortunately not always organic though) fruit juices with no sugar added, and my latest discovery was their Apple-Carrot juice, which is delicious and full of vitamin A. I now "spice up" his sweet potatoes and yams with this yummy healthy juice, stirring it into the hot root veggies when they're done steaming and let them sort of marinate in the juice for a while, until cool enough to serve. Vegetable or chicken broth works well, too. He loves it, and gobbles this one up now. Gerber also make apple-prune juice which I find to be helpful to keep things loose on their lower end... I like to add the apple prune juice to his oatmeal in the mornings, along with some yogurt. The best part about these little Gerber juices is that they come in little 4-oz. bottles, perfect to take with you on the road and so that you don't have to open a huge jug of juice at the beginning of the week and have it go bad after using so little. "Yo Baby" Organic Stonyfield Yogurt is great to have around, too, for its wonderful size. They come in little packs of 6 and are a perfect serving-size for the little eater.

On another practical not, I just saw a friend today who is 20 wks. pregnant and was wearing a lovely top. I commented to her that it was "a really nice maternity top" and she responded, saying that it wasn't a maternity top but one right off the shelves in the regular women's section. These days the style is long and stretchy, perfect for pregnancy! So rather than paying top dollar this year for maternity clothes, take advantage of the pregnancy-friendly styles out there! A couple nice tops from Old Navy, nice and long, will give you an idea of what I mean. Check out their ribbed tees and button-down shirts! Of cousrse, Old Navy has VERY affordable maternity tees, too...(as far as new clothing goes.)

~Sia writes from Vancouver, WA



one of us :: 12:29 AM :: 0 Comments

---------------oOo---------------
St. Thomas "the Doubter"
HAPPY FEAST OF ST. THOMAS THE APOSTLE!

"St. Thomas was a Jew, called to be one of the twelve Apostles...
He is best known for his role in verifying the Resurrection of his Master. Thomas' unwillingness to believe that the other Apostles had seen their risen Lord on the first Easter Sunday merited for him the title of "doubting Thomas." Eight days later, on Christ's second apparition, Thomas was gently rebuked for his scepticism and furnished with the evidence he had demanded - seeing in Christ's hands the point of the nails and putting his fingers in the place of the nails and his hand into His side. At this, St. Thomas became convinced of the truth of the Resurrection and exclaimed: "My Lord and My God," ... St. Thomas is also mentioned as being present at another Resurrection appearance of Jesus: at Lake Tiberias when a miraculous catch of fish occurred. This is all that we know about St. Thomas from the New Testament...His feast day is July 3rd and he is the patron of architects."

-from
CATHOLIC ONLINE.COM
Labels: feastdays
one of us :: 12:10 AM :: 0 Comments

---------------oOo---------------
Saturday, July 01, 2006
An Open Invitation

This blog was designed with a collaborative attitude in mind. We would love YOUR help. Oftentimes, our creative juices are running a little dry or, more often, we get wrapped up in the duties of our lives and can't keep the blog as updated as we'd like.

SO, if you have any ideas regarding mothering/wiving related topics or just want to speak your mind on a certain issue... we would love to post your thoughts on our site. Of course proper credit will be given. So, if you're feeling brilliant or even just want to discuss a particular aspect of how the Faith relates to YOUR life... please, please send us your ideas at:

coffeeanddiapers@gmail.com

Labels: our website



one of us :: 6:50 PM :: 0 Comments

---------------oOo---------------
Blessed Junipero Serra
I wanted to write about this extraordinary man who was beatified in 1988 because it hits home to me... who used to attend regularly the Mass at the 9th and final mission he founded (San Buenaventura) before his death... a few more were founded by his order later. Also, Hope lives right in this region and Sia grew up in California so all of us must have a bit of a soft spot for Father Serra who is largely responsible for the spread of the Faith in the Western United States... converting thousands by his simple message, austere lifestyle and evident love of God. Father Serra pray for us!

Labels: feastdays



one of us :: 6:43 PM :: 0 Comments

---------------oOo---------------