Monday, August 07, 2006
Making Do on Mondays: Children Praying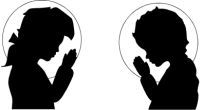 Of course we all want our kids to stay in the Faith... to develop a deep and lasting love of our Savior. One thing that is important to impress on our children is the need for and beauty of frequent prayer. St. John Vianney has
written on prayer
more eloquently than any saint that I know: "The good God does not require of us fine prayers, but prayers which come from the bottom of our heart." What can be more perfect and pure than the prayer of a child?! We don't need to teach them all the long formulas all at once. But here are some simple ideas we do in our family to help keep our minds on the Eternal:
Pray before every meal. We use the standard "Blessed is the Lord for these Thy gifts..." and at supper time we add to the end: "Lord give food to the hungry and for those who have food, let them hunger after You."
Night prayers. For us this consists of the "Angel of God", a God bless so-and-so litany, and a "Jesus help me be a good boy, I love you Jesus, I love you Mary."
We make the sign of the cross whenever we pass a Catholic Church. The kids wave out the window and sometimes blow a kiss: "Hi Jesus!" It's even better if families could take the time to stop and visit the Blessed Sacrament, even if just for a quick prayer. This helps kids realize the True Presence and the goodness of "visiting Jesus" in the tabernacle.
Whenever we hear an ambulance or pass the scene of an accident we say a Hail Mary for whoever may need our prayers.
(I'm still looking for a good morning prayer for kids... the consecration I use is a bit much for them... so pass along those ideas if you have them).
We pray the rosary whenever we can in the evenings. This is made a special event for the kids because they get to pick out a candle to light (I bought a few of those cheap, tall candles with pictures of saints or angels, Jesus or Mary on them. About 99 cents a piece at some little convenience store somewhere). And then they can sit quietly while we pray or of course they can join in. Then they get to blow the candle out... that's their favorite part. I also let my kids (well the verbal one anyway) say what he wants to offer up each decade for. Sometimes he comes up with funny things like "Let's offer this up so Leo won't steal my cars..." and then I help him form that into a general prayer "Yes, that's good, and so all children learn to love and share like Jesus." Other times, you'd be surprised at the beautiful little prayers he comes up with: "Let's offer this up so bad guys don't hurt people." etc. Give kids the chance to pray from their hearts and you may be humbled by what they come up with...

Finally, I've made my children very familiar with the Divine Mercy image. I think there is no other image so simple and no other prayer so pure as this. My toddler has learned when he is scared or lonely or frustrated, that the best thing to say is "Jesus, I trust in You."
-Ellie: Oak Harbor, WA
Labels: useful ideas
one of us :: 7:36 AM :: 5 Comments

---------------oOo---------------