Monday, July 10, 2006
From the minivan of another mom
This post is brought to you courtesy of
Stacey Chik
, who has some interesting thoughts to share with us: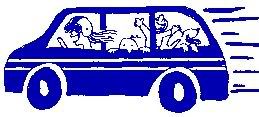 You know, being a mom is a funny thing. With both of my kids' birthdays swiftly approaching (Timmy will be 2 in 11 days and Emma will be 3 in 14 days), I have been reflecting on the ways my perspectives have changed as a mom. When I was single, and then even while pregnant with my oldest, I was very sure of some of the things I would and would not do as a parent. I was adamant that children be taught 1st time obedience and that they be trained up in the Lord under the authority of God rightly given to us as their earthly parents. You know, it is our job to be their parents and not their friends. Back then I may have looked at other parents and judged them for being too lenient or allowing the child to "run the show" or whatever. Ahhh, little did I know. What is that they say about walking a mile in another man's shoes? I think of it as driving a mile in another mom's minivan.
Now that I am a well-seasoned mom of a 2 and 3 year old, I just laugh at myself and am very cautious to judge other moms. I still believe all of what I said above about parenting and for the most part my husband and I pray for the grace to be consistent and fair while being models of God the father's unconditional love, mercy, justice, and authority. But, funny thing about parenting, it just doesn't happen in a vacuum.
There are all kinds of variables that can affect any given scenario that we have absolutely no control over. It is all of the variables that we just do not see when we encounter others in public parenting fiascos. We just have no idea what the day, days or weeks have been like for that family leading up to the one glimpse we have of their interaction.
In the past 24 hours I myself have been the central figure in several parenting fiascos. (
Note, I define a parenting fiasco as a situation in which one chooses to go against 'rule' for the sake of peace, or choosing one's battles, or out of momentary desperation to accomplish a goal.
) These fiascos have shown me that I am the mom I used to judge. I am the:
1. CANDY BRIBER
Yesterday I took the beautifully bathed and blow-dryed children to Picture People to have their portraits taken. "Don't let their model-like appearances fool you," I told the photographer, "They are a handful." The little rascals were not the most cooperative of children. (Imagine little barefooted hooligans RUNNING away from the photographer, STOMPING their feet at her, and SULKING in a corner, REFUSING to get their pictures taken.) So, while I am a perpetrator of obedience and we teach it daily, I was desperate. So, I made a quick, well-thought out decision to bribe my children with candy and the promise (albeit, empty) of McDonalds. So, there I am shoveling my kids with smarties (left-over from Halloween) and begging them to smile, or for goodness sakes at least sit still!
2. PUSHOVER
When we arrived home, our babysitter was waiting for us. On the way in the house Timmy had 3 sticks he wanted to bring in the house. Now,
typically, we have a rule of no sticks in the house. I told him once that he had to leave them outside and then I saw that face: the face that tells me that he is about to meltdown into a screaming, flailing blob that only moderately resembles my handsome charming boy. What would the babysitter think? So, I quickly amended my suggestion and compromised with Timmy. "You can only bring one of these sticks in the house, son." He thinks I am still in control and yet a meltdown is avoided.
3. ESCAPEE
My babysitter was there for the afternoon so that I could go walking with a girlfriend. I am training for a half-marathon so I really needed to get a 7 mile walk in. Anyways, the drive to and from the lake where we walked took longer than expected and I am sure the babysitter was convinced I was never coming back. And in reality, part of me didn't want to come back. Now, I honestly believe in what I am doing as a stay-at-home mom and that it is the best for me and the kids. I also think that some moms get overly selfish and are gone too much. That being said, I really needed this break. The friend I walked with is
single, has her own beautiful apartment and can come and go as she pleases. I am so envious of that!!! I had escaped for the afternoon and admittedly enjoyed every moment of it.
4. PUSHOVER PART TWO
I have always had the philosophy that when it comes to sleeping children, they should do it on their own. I think that after three months of age, they should be in their own bed in their own rooms and be sleeping through the night. That is what has worked best for our family and we have had to learn to be firm about it. It works. People have always found it remarkable that we can lay our kids down when they are wide-awake and we won't hear from them again until morning. Well, that firm handed approach works really well when the parent is alert and clear-headed. Unfortunately, last night Em woke up at 3 am screaming for us. We both went in and helped her to fall back asleep by making our bed on the floor (she joined us, and didn't fall asleep for hours). So there I am, sore after a long workout the day before, and sleeping on my daughter's floor. Ugh. So much for that firm-handed approach.
I share these fiascos as just a few of hundreds of examples that have taught me to not judge other parents. I would not want someone to judge me for bribing my children with candy, or sleeping on my daughter's floor. These are isolated incidents that will hopefully teach our children about the mercy of God and how just like us, He meets us where we are at... where we need it most. Sure the rules of our home don't really call for parents sleeping on kid's floors but it what what she needed most at that moment. It was the way that we could speak her love language and help her to tangibly experience the love of God the Father. After all, that is exactly what these moments have shown me.
Labels: Reflections
one of us :: 1:34 PM :: 1 Comments

---------------oOo---------------