Monday, November 20, 2006
Making Do on Mondays: Thanksgiving
Thanksgiving is right around the corner. Here is a compilation of great articles or tips related to this day: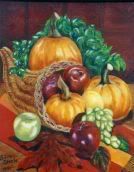 First let's talk decorations:
"Decorate from nature. Instead of buying those honeycomb paper turkey decorations and cartoonish pictures for the wall, scatter (clean) leaves over the tablecloth. Place an arrangement of twigs in a flower vase; it will look better than it sounds, especially if there are some berries on the branches. A bowl of fruit can serve as both a course for the meal and your table's centerpiece. Candles, table runners, and harvest-themed objets d'art are easily found at second-hand shops and garage sales, if not in your own attic."
This webpage has some GREAT tips
on how to get kids involved in the day:
"Thanksgiving can be either an awful or wonderful memory for kids. It can be a day full of adults yelling to "get away from that stove" and "don't stand in front of the tv while the football game is on" or it can be a day where kids help prepare food decorate the table, greet the guests, and have a good time."
This site has a whole slew of Thanksgiving craft ideas for kids.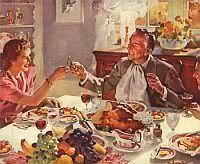 Come Thanksgiving morning, you may realize that there is a lot more kitchen traffic than you bargained for. Start your meal preparations now! You can make a big batch of
Cranberry Sauce
and freeze it. Plus your dressing always tastes better the next day so why not prepare it a day early? You can also get away with cooking several of your baked items at the same time. Even a little temperature difference won't mean much if you keep an eye on your casseroles and pies.
And do you have one or more guests coming over that are vegetarians? I liked
this article that gives good tips
on how to entertain and prepare for such a person in a meat-eater's domain!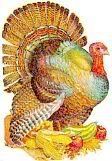 Here are some good Turkey Leftover ideas
.


Even more...
Happy Thanksgiving!
-Ellie: Oak Harbor, WA
Labels: crafty posts, Seasonal
one of us :: 8:47 AM :: 1 Comments

---------------oOo---------------