Thursday, November 30, 2006
The Advent Wreath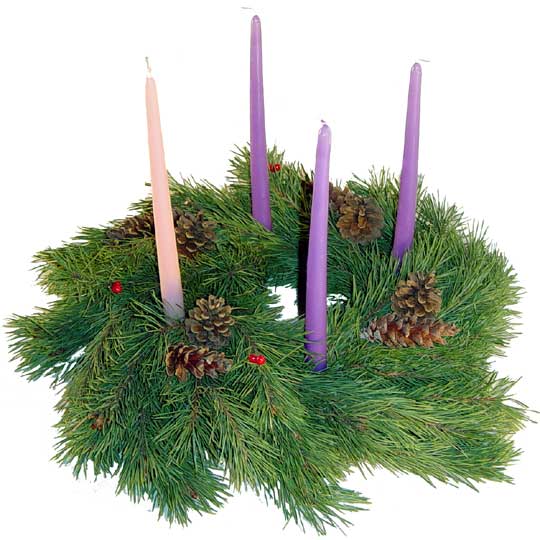 Many of you, I'm sure, are familiar with the tradition of the Advent wreath. It is an Advent custom which originated in Europe and which is now widespread in America. As
Advent
means
coming
, the Advent wreath is one of the many customs which help us to prepare for Christ's coming at Christmas.
As mothers of our homes I think that it is very important to remember that children love to learn through symbols, stories, customs and such. The Advent wreath is one of many customs during Advent which can assist in instilling a love of our faith within the hearts of our children.
What do the different aspects of the actual wreath represent?
~The wreath is in a form of a circle. This is symbolic that God has no beginning and no end.
~The evergreen which makes up the wreath is a symbol of eternal life and the unchangingness of God.
~There are four weeks in Advent, hence the 4 candles. There are 3 white candles representing divine innocence and 1 rose-coloured candle to match the rose-colored vestments which the priest wears on
Gaudete Sunday
. Gaudete Sunday is the third Sunday of Advent, so called from the first word of that day's Introit at Mass:
"...Rejoice (gaudete) in the Lord always, again I say, rejoice."
~The promise is almost fulfilled; come, everyone, rejoice!
~The ribbon on the wreath is purple, just as the linens of the priest and the altar are purple. This color represents penance, just as lent represents penance. However, it is important to remember the difference between the penance of Lent and the penance of Advent. The penance of Lent is bitter and sorrowful as we atone for our sins through fasting and such. The penance of Advent is more of a hopeful rememberance of our sins with the emphasis being on our longing, our need, our dependence on Christ's coming and the graces of the feast of His Nativity.
~The flames of the candles lit of course signify Christ as the Light of the world.
So that's the symbolism of the Advent Wreath, in brief.
To find suggestions for the making of your own advent wreath you can go to:
catholic culture.org.
There on Catholic Culture's site they also include a suggestion of how to go about doing the Advent Wreath customs in your home, their source being Mary Reed Newland's. For some basic Advent Wreath prayers, click
here.
The following prayer is the prayer for the second sunday of Advent, to give you a taste of the prayers.
Stir up, O Lord, our hearts to make ready the ways of thine only-begotten Son; and with minds undefiled to pay to thee, through is coming, the homage of our service.
Growing up we sang an Advent hymn every night after the prayers. This was helpful in setting a peaceful tone to the night, preparing us for sleep. ASfter we were finished singing, the candle-snuffer (usually the youngest) would put out the candles and we would be left in the completely dark room...very magical to us.
~Sia, Vancouver, WA
Labels: Seasonal
one of us :: 9:00 AM :: 0 Comments

---------------oOo---------------