Wednesday, November 22, 2006
St. Cecilia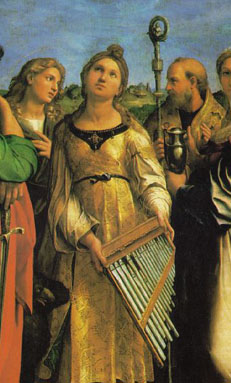 Today is the
Memorial of St. Cecilia
, virgin and martyr.
~She is the patron saint of Albi, France; composers; martyrs; music; musicians; musical instrument makers; archdiocese of Omaha, Nebraska; poets; singers.
Prayer to Saint Cecilia:
Saint Cecilia, heroic martyr who stayed faithful to Jesus your divine bridegroom, give us faith to rise above our persecutors and to see in them the image of our Lord. We know that you were a musician and we are told that you heard angels sing. Inspire musicians to gladden the hearts of people by filling the air with God's gift of music and reminding them of the Divine Musician Who created all beauty. Amen.
(~from
http://www.2heartsnetwork.org/Cecilia.htm
)
Happy Feast Day...
Labels: feastdays
one of us :: 8:52 AM :: 0 Comments

---------------oOo---------------