Friday, November 17, 2006
Friday Coffeehouse: A few books on family and marriage
Here are a few books on Mothering, Marrriage and Family which I think to be pretty edifying. They were a treat for me to read, anyway.
Rosalie McPhee wrote a couple books on Mothering and on Marriage which are well-worth reading. They are full of Scripture pasages, quotes from Catherine Doherty and her own experiences as a wife and mother. -Although the content is rich, it is very easy reading.
Her books Mothering: Becoming the Heart of the Home (A Little Mandate Book)
(with a beautiful illustration by Michael O'Brien to adorn the cover, I might add!) and Marriage: A Fountain of Grace (Little Mandate Book)
.
These books are great reads while you're making dinner, waiting for the water to boil, etc... ;)


Marriage: The Mystery of Faithful Love
,
by Dietrich von Hildebrand
:
This book is a bit heavier than the above ones I mentioned, as it is written by the well-know philosopher.. so it has mor ephilisophical/theological depth in certain ways. -What a reat for your heart and your intellect, though, when you have time to really think and soak up what you're reading!
(This book is more of a coffee-hour concentration book.)
"Marriage has been chosen as the image of the perfect union between the soul and Christ because in marriage, likewise, the center and core is love. No other earthly community is constituted so exclusively in its very substance by mutual love..."
To read more of this book, go to
:
http://www.ewtn.com/library/Marriage/SIPMARRG.HTM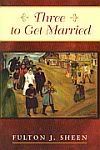 Fulton J. Sheen's book
Three to Get Married
is a remarkable presentation about the nature of marriage and discusses common marital problems and solutions.
Letter To Families From Pope John Paul II
-- I highly suggest reading this as it is from our late Holy Father! To look at this letter or to read it, go to:
http://www.vatican.va/holy_father/john_paul_ii/letters/documents/hf_jp-ii_let_02021994_families_en.html
~Sia, Vancouver, WA
Labels: Books Music Culture
one of us :: 8:52 AM :: 0 Comments

---------------oOo---------------