Wednesday, October 18, 2006
St. Luke, Evangelist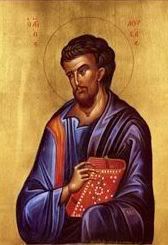 Today the Church celebrates the feast of
St. Luke, Evangelist.
One of the four writers of the Gospel, he is the one who had an emphasis on the human love of Christ, on His compassion for sinners and for suffering and unhappy persons, for outcasts such as the Samaritans, tax collectors, lepers, shepherds (not a respected profession), and for the poor. The role of women in Christ's ministry is more emphasized in Luke than in the other Gospel writings.

(source:
http://satucket.com/lectionary/Luke.htm
)
I just read about some interesting aspects of his life here:
http://www.ewtn.com/library/MARY/STLUKE.htm
. It's worth clicking on and reading a bit of.He was a physician but is also known for having been a painter... He evangelized Greece and Rome with St. Paul and was present during the shipwreck and other perils of the voyage to Rome.He is the patron of Physicians and Surgeons, and is often depicted with an ox or a calf because these are the symbols of sacrifice. Symbols for/depictions of St. Luke include: Winged ox; winged calf; ox; picture of the Virgin; palette and brushes; phials of medicine; physician's robes; easel; book and pen; hatchet; wooden horse; books of his Gospel and of the Acts; bishop; painting an icon of our Lady.
Catholic Culture.org
suggests some ways to celebrate this feast on their page. Here are some reccomendations for foods:
Foods this day to honor St. Luke would include some beef dish, as he is the patron of butchers. So perhaps a nice cut of steak would be in order? For dessert, bake some raisin Banbury Tarts to evoke the festivals of England on this day, or a cake in the shape of a book with decorations of a calf or ox for this evangelist.
Today is also known as "Sour Cakes Day" in Scotland, because baked cakes were eaten with sour cream in Rutherglen.
Happy Feast Day!
Labels: feastdays
one of us :: 9:17 AM :: 0 Comments

---------------oOo---------------