Saturday, September 23, 2006
St. Pio of Pietrelcina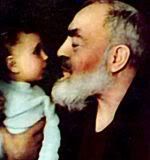 Another one of my favorite saints.
St. Pio
is important to me because he is such a new saint. Since he only died in 1968, it's so easy to look at him as a REAL person. Oftentimes we fall into the thinking of saints being myths or just nice stories rather than living, breathing human beings who struggled with the same day to day struggles every other person did. The life of Padre Pio is a fascinating one; I won't bother to try articulating his finer points here. But one of the best books I ever read was his biography. And the best biography written about him happens to be
"Padre Pio: the True Story"
by Bernard C. Ruffin. I can't recommend it enough. On a side note, when I was pregnant with my firstborn and my husband was overseas, I used to do a middle of the night Adoration hour in a nearby town. And it seemed to me whenever I drove there or back on a certain part of the highway, I could smell such a heavenly fragrance, unlike any flower I knew. I always attributed it to Saint Pio (who was known... and IS known to be associated with a divine 'aroma') and have counted him among my favorite intercessors since then...Here is a nice prayer from him for after Communion, it's worth the whole read:
Stay with me, Lord, for it is necessary to have You present so that I do not forget You. You know how easily I abandon You.
Stay with me, Lord, because I am weak and I need Your strength, that I may not fall so often.
Stay with me, Lord, for You are my life and without You I am without fervor.
Stay with me, Lord, for You are my light and without You I am in darkness.
Stay with me, Lord, to show me Your will.
Stay with me, Lord, so that I hear Your voice and follow You.
Stay with me, Lord, for I desire to love You very much and alway be in Your company.
Stay with me, Lord, if You wish me to be faithful to You.
Stay with me, Lord, as poor as my soul is I want it to be a place of consolation for You, a nest of Love.
Stay with me, Jesus, for it is getting late and the day is coming to a close and life passes, death, judgment and eternity approaches. It is necessary to renew my strength, so that I will not stop along the way and for that, I need You. It is getting late and death approaches, I fear the darkness, the temptations, the dryness, the cross, the sorrows.
O how I need You, my Jesus, in this night of exile!
Stay with me tonight, Jesus, in life with all its dangers, I need You. Let me recognize You as Your disciples did at the breaking of the bread, so that the Eucharistic Communion be the Light which disperses the darkness, the force which sustains me, the unique joy of my heart.
Stay with me, Lord, because at the hour of my death, I want to remain united to You, if not by Communion, at least by grace and love.
Stay with me, Lord, for it is You alone I look for, Your Love, Your Grace, Your Will, Your Heart, Your Spirit, because I love You and ask no other reward but to love You more and more.
With a firm love, I will love You with all my heart while on earth and continue to love You perfectly during all eternity.
Labels: feastdays
one of us :: 9:57 AM :: 1 Comments

---------------oOo---------------